Scandinavian Textile Artist Returns to Marine Mills Folk School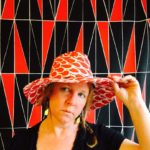 Kirsten Aune, artist-owner of Kirsten Aune Textiles Studio in Duluth, Minn., will be returning to Marine Mills Folk School on Monday, June 20 to teach Scandinavian Textile Stenciling.
Students ages 18 and older will learn the art of stenciling on fabrics as they create a decorative textile for the home such as a pillow cover, handbag, tea towel, kitchen hot pad, and more. Each participant will receive a water-based paint set to take home and use to further explore this medium.
"I create original geometric and floral designs using stencils cut by hand," Aune explains. "I arrange them in dynamic visual compositions using bright blocks of color and bold designs."
Aune's artistic style has been called "Modern Scandinavian." Her connection to Danish, Swedish, and Finnish design is rooted in her childhood, growing up in a home of Mid-Century Modern Scandinavian furniture and Marimekko wall hangings. Aune has traveled to Scandinavia to research designs and to exhibit her work. Her growing reputation has resulted in her work being displayed in museums and private homes throughout the region and country.
"Scandinavian Textile Stenciling" takes place 12:00 p.m. – 3:00 p.m. on Monday, June 20 at Marine Mills Folk School located at 550 Pine St., Marine on St. Croix, MN 55047.
---