Folk School Aims to Strengthen and Empower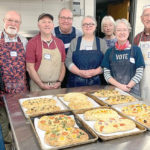 By Nealy Corcoran editor@countrymessenger.com
Marine Mills Folk School offers a variety of classes where everyone is welcome. People are invited to learn traditional skills in a collaborative environment. Classes include (but are not limited to) photography, gardening, knitting, baking, wood-carving, syrup making, music and much more. Following a focaccia baking class, students at MMFS proudly pose next to their delicious accomplishments!
Marine Mills Folk School (MMFS) opened its doors in October 2018 as an experimental learning center located in the St. Croix Valley. Their mission is to support communities and strengthen connections by inviting all people to discover the joy of creating together through traditional arts and crafts.
"(I became interested) When the local school district closed some elementary schools and people were really concerned that closures would affect the long-term vitality of the area," said MMFS founder and community member Robin Brooksbank.
"So I decided to read about the impact that North House Folk School was making in Cook County and that really caught my eye. For every dollar spent on class fees they got a multiplier effect in the county of $12 to $13 and so I thought there is a way to make an impact to bring people to the area. And to date it seems to be working," Brooksbank said.
Folk school tradition traces its origins to Scandinavian countries.
Marine Mills offers hands-on, life-long learning for all ages in a supportive, collaborative, environment and focuses on an unplugged, deliberate approach, with an emphasis on intergenerational learning that is fun and restorative.
"Marine Mills Folk School is really a community-based organization because of the love that people have for this area and specifically for Marine on St. Croix," said Brooksbank.
"For those of us lucky enough to live in the area we know that for generations people have had the same sort of deep response to the natural environment of this area; the river, to the rocks to the beautiful white pines and the access to artists that add to our quality of life tremendously," Brooksbank said.
Brooksbank, a retired co-owner of a manufacturing company describes herself as craft-impaired.
"I can't sit still long enough. My interest is on the economic side the developing economic activity, but we are all committed to making an impact in our area by supporting artists and keeping them a part of our lives. That is us," she said.
Everyone is welcome to attend classes at Marine Mills Folk School.
"We bring people together to learn traditional skill but they leave with more connections to people. Our emphasis is on hands on learning. The bonding that happens in a folk school class is really amazing."
"We say that is our (not so) hidden agenda," says Brooksbank, "We can create world peace through traditional skills just by giving opportunities for differing people to make connections.
"You have to find a balance of what people want to learn and finding qualified instructors. Students have an opportunity to learn from outstanding artists," she said.
MMFS offers a variety of classes that are held in person and online. People are invited to learn about things like photography, gardening, knitting, baking, woodcarving, syrup making, music and plenty more.
Featured Classes
Tuesday Knit Nights
Bring a knitting project — whether you're in the middle of one, or a project you've been meaning to start! If you don't knit, bring your crochet or embroidery, spinning or weaving. We're even adding visible mending! Find a new friend or meet up with an old one, enjoy time working on a fiber project together.
Bluegrass Jam sessions
Third Saturdays. See website for upcoming dates.
An essential skill of bluegrass music is the ability to take part in informal playing situations, also known as a "jam session."
Participants arrange themselves in a circle, choose a song from a common repertoire, sing, accompany each other and play solos. The unplugged, grassroots nature of this music lends itself to low key playing situations that are fun and satisfying.
Veteran teacher Randy Gildersleeve and fellow musicians will play songs in the jam session format and talk about what you need to know to become a jammer, including "jam etiquette." The demonstration will be followed by an invitation to join in on a few tunes. Instruments that are ideal for this include, but are not limited to acoustic guitar, banjo, mandolin, fiddle, bass, ukulele, harmonica and singing.
A freewill donation of $10 per person, $20 per family is encouraged to help cover expenses but no one will be turned away. No matter what your experience, all are welcome!
Join the band, or just come listen!
Build a wooden paddle
In this class, learn about paddle design, wood choices and the use of simple woodworking tools and build your own bent shaft canoe paddle.
Students will learn about wood selection and grains, use of hand tools and skill saw, paddle design and considerations, and paddle sizing. Each student will leave with a completed bent shaft paddle ready for varnishing.
Students 14 years old and older are welcome to join this class, with each participant working on their own paddle. Students aged 14-18 must be accompanied by an adult. Each student must register separately and pay the class fee.
Volunteer
"There are many tasks on class days that are necessary and fun. If you aren't taking a class, come and spend a morning or afternoon helping out," said Brooksbank.
Teach
If you are passionate about your skill or craft and love sharing that knowledge with others, you can apply to teach a class at MMFS!
Give
Make a difference by supporting your folk school! Your gift will help Marine Mills build community and support local artisans as they spread the word and expand class offerings.
For more information about classes and other upcoming events visit https://marinemillsfolkschool.org/