Thank you for your interest in volunteering with Marine Mills Folk School! We have a small staff and rely on volunteers to help us fulfill our mission. Whatever your schedule, we would love to learn more about your interests in helping the folk school. Our volunteer coordinator will be glad to find a role for you that suits your skills and schedule.
To get started volunteering, please contact us at volunteer@MarineMillsFolkSchool.org or call 612-440-6295, leave a message, and we will call you back. Thank you!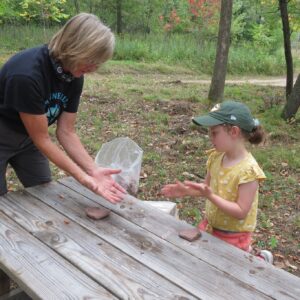 Volunteer Incentive Program
Marine Mills Folk School and our board of directors are grateful to all who donate their time and talents to our folk school. Whether you're a host on class day or help with behind-the-scenes tasks, we want to show our appreciation.
In March 2023, our staff and board developed the following Volunteer Incentive Program. Thank you, volunteers, for helping Marine Mills Folk School grow and thrive!
Everyone who volunteers one or more hours receives 15% off any classes taken in the following six months.
When cumulative volunteer hours equal 10 hours, the volunteer receives 50% off one class registration.
When cumulative volunteer hours equal 20 hours, the volunteer receives one free class (up to $85 value), plus continues to receive 15% discount on any class registration. The hours continue to accumulate when a new calendar year is reached but reset after 20 hours.
All volunteers receive 15% off MMFS merchandise.