I Was Hooked! Basket Making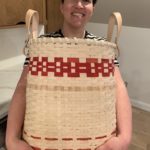 Becca Gross has taken her education beyond the classroom, exploring the art of basket making in her free time. We love to celebrate and share stories like hers, and hope you enjoy hearing from Becca in her own words.
"This past winter, I took Kirsten Skoglund's Market Tote class. After the class, I purchased a few basket making kits to get more practice. I recently made my first original basket! A large laundry hamper with a wooden base and leather handles (thanks to Candace Lacosse for teaching some leatherwork skills in the Leather Tote Bag class at Marine Mills last winter!).
"I've started collecting some patterns and am hoping to learn more about natural basketry using Minnesota materials over the summer.
"Why do I love basket making? I love making functional crafts. Who doesn't need a good basket? I also appreciate that you can easily split the project up into a few solid sessions and finish it up in a weekend.
"Most of my crafting happens after my kids go to bed, so it's great to be able to accomplish a good portion of the project in a couple of hours, set it aside, and pick it back up the next night.
"Basketry is a pretty forgiving art. Little mistakes can be easily fixed or just considered 'character adding' elements of your basket."