There were no results found.
There were no results found.
Sarah Mittelstadt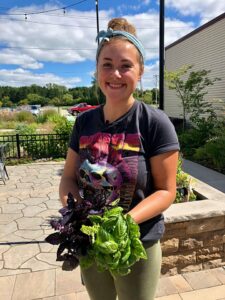 Sarah Mittelstadt is the Chef and Kitchen Manager at Farm Table Foundation, a nonprofit restaurant that seeks to grow local food culture out of Amery, WI. Sarah studied Food Systems at the University of Minnesota but fell in love with feeding people as she learned to sling bison burgers and Thai curry from the Chef Shack food truck in Minneapolis. For her, the food at Farm Table restaurant brings full circle the relationship between farmers and the land that she studied in school and the good and nourishing food she learned to surround herself with. She is absolutely committed to a homesteader's kitchen model that creatively preserves and utilizes local fruits, vegetables, grains, and animals throughout the year. Sarah also places great importance on food that is embedded with cultural tradition and meaning—which she immerses herself in through travel (Thailand, Norway, Ireland, etc.). When she's not in the kitchen, Sarah loves to spend time swimming, gardening, and hanging out with family and friends.