There were no results found.
There were no results found.
Kristy Lynn Allen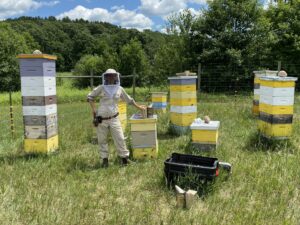 Kristy Lynn Allen is owner and head beekeeper at The Beez Kneez, LLC. Established in 2010, The Beez Kneez produces pedal-powered honey, provides beekeeper education and support, and promotes pollinator advocacy. Using sustainable beekeeping practices, Kristy manages 150 hives on small, organic farms in Western WI and at nature centers around the Twin Cities. She also runs a honey and beekeeping supply shop in Minneapolis as well as a beekeeper education program called Camp Beez Kneez that educates aspiring and experienced beekeepers. Three years ago, she moved to a small farm in Grantsburg, WI, to further participate in and advocate for the already vibrant sustainable farming community of the St. Croix River Valley. She currently partners with the following local farms to manage hives: Red Clover Herbal Apothecary, Blackbrook Farm, Turnip Rock Farm, Lily Springs, Burning River, and Common Harvest Farm. Kristy's honey is sold at Farm Table!