There were no results found.
There were no results found.
Chef Lachelle Cunningham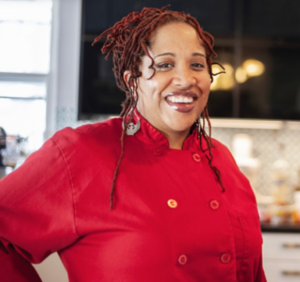 Chef Lachelle Cunningham has been a dynamic force in the Twin Cities' food scene and is known for cooking globally inspired comfort food that thwarts unhealthy stereotypes and fuses in global flavors. She began her culinary career by launching Chelles' Kitchen in 2012 and soon became known for her work as the founding Executive Chef of Breaking Bread Cafe (2015) in North Minneapolis, where she received many accolades for her food creativity and social justice work. In 2018, Chef Lachelle began building The Healthy Root Institute, with a mission focused on healing and social justice through food education, culinary arts, and entrepreneurship. Through the Healthy Root Institute, Chef Lachelle curates cooking workshops and retreats, teaches culinary arts and food business classes, and also provides human resources, menu development, and operations consulting to local restaurants and food service establishments. To learn more about where Chef Lachelle's vision is headed, you can read this recent article in the Minneapolis/St. Paul Business Journal and visit the Healthy Root Institute website.