There were no results found.
There were no results found.
Bre Marsel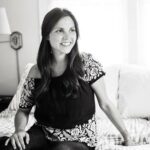 Bre Marsel is a Registered Dietitian (RD) and Personal Trainer who follows a balanced approach to health with attention to real food, self-love, and positive reinforcement. She received her Bachelors of Science Degree in Nutrition, Dietetics, and Exercise Science from Concordia College in Moorhead, MN. Bre currently works at RedBrick Health in Minneapolis, MN.  Additionally, Bre works as a Freelance Dietitian supporting and coaching other RD's who are starting their own businesses as well as private clients across the country, helping them to achieve their wellbeing goals.
Her spiritual gifts include teaching, empathy and listening – she is an expert at application, bridging the gap between nutrition education and behavior change strategies. If you can't find her talking about the latest trends in the nutrition world or the kitchen cooking up new recipes, you can find her with her family on the St. Croix River, gardening or enjoying time outdoors. Bre lives in Marine on Saint Croix, MN with her husband, Ryan, newborn daughter, Francesca, and 9-year old Alaskan Husky, Duro.