Wool Drying Basket (In-Person) October 29 & 30
Oct 29, 2022 9:30AM—Oct 30, 2022 3:00PM
Location
Marine Mills Folk School 550 Pine Street Marine on St Croix, MN 55047
Cost $125.00
Categories Crafts
Topics Kirsten Skoglund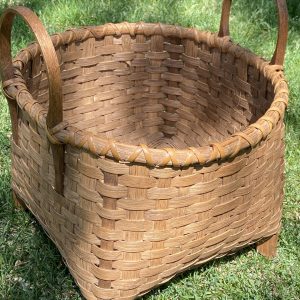 Throughout the 1800s, wool drying baskets were used after shearing sheep to dry wool before carding and spinning. The damp wool was placed in the basket to allow air to circulate around wool fleece. The bottom of this type of basket is an open lattice to allow for better drying.
The wool drying basket you will make in this class is a generous size, 16" in diameter and stands 12" high. It has 4 wooden feet which are in each corner and two large bushel basket handles. This basket is perfect to store all your yarn, blankets, or just about anything. This class will require patience and concentration but you can leave with a basket you can sit back and marvel at.
You will learn a variety basic basket-making techniques such as:
– How to weave a large basket
– How to shape the sides with start – stop weaving
– How to use wooden feet and insert bushel basket handles
– Create a very sturdy rim
– how to lash a rim with two inserted handles
You will work hard during this class but the outcome will be well worth it. There is truly something magical about taking basic supplies from nature and making a functional work of art.
The instructor will provide all weaving supplies. Students to bring:
– Bucket (at least ice cream bucket size or larger)
– Wooden clothespins (at least 20)
– Strong scissors
– Measuring tape
– Needle nose pliers
– Small flat head screwdriver
– Spray bottle
– Pencil for marking
– Apron or old clothing that can get wet and snagged
This is a two day class, Saturday and Sunday. If you are interested in staying in the area overnight please see our lodging page. There are local opportunities including camping, and also many options in Stillwater, 15 miles south of Marine.
Lunch will be on your own. We strongly recommend you bring a bag lunch with water/snacks for the first day as this class is scheduled through the lunch hour.
Location Details
Marine Mills Folk School
Cost Details
Tuition: $125
Materials Fee: $50