Wet-on-Wet Oil Painting (Intergenerational) January 6, 2024
Jan 06, 2024 10:30AM—2:00PM
Location
Marine Mills Folk School 550 Pine Street Marine on St Croix, MN 55047
Cost $80.00
Categories January, Visual Arts
Topics Kevin Klein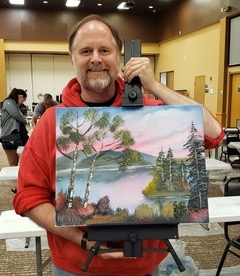 If you think you can't paint anything other than a wall, this class is for you! You will paint a painting wet-on-wet style (aka alla prima) just like Bill Alexander and his students did on PBS. In this class, instructor Kevin Klein will share what he learned directly from Tom Anderson, Buck Paulson, and Steve Ross. He will guide you step-by-step as you create your own version of landscapes and seascapes. You will also learn how to mix colors and you'll get an introduction to the laws of landscapes and composition.
The painting will change with every class. Instead of just being taught how to paint one painting, what you learn will help you paint any painting. The first rule is everyone leaves with a pretty painting.
Students are asked to bring:
Wear old clothes in case you get paint on them
If your class is scheduled over a lunch hour, we highly recommend you bring a lunch or click here to learn about local eating opportunities in the area.
Age Requirement
Students ages 10 and older are welcome to attend this class. Ages 10-17 must register with another registered adult.
Skill Level
No experience needed.
Location Details
Marine Mills Folk School
550 Pine St., Marine on St. Croix, MN 55047
Cost Details
Tuition: $60
Materials: $20
Total Cost: $80
NOTE:  Be aware we may cancel class if a minimum number of registrations is not reached. We work to balance teachers' need to plan for a class with students' busy schedules — not an easy task. Please register as early as possible!
If interested, you can find our cancellation policy here.