West African Drumming Ensemble (In-Person, Intergenerational) June 3, 10, & 17
Jun 03, 2023 3:00PM—4:30PM
Location
Marine Mills Folk School 550 Pine Street Marine on St Croix, MN 55047
Cost $40.00
Topics Janice Hunton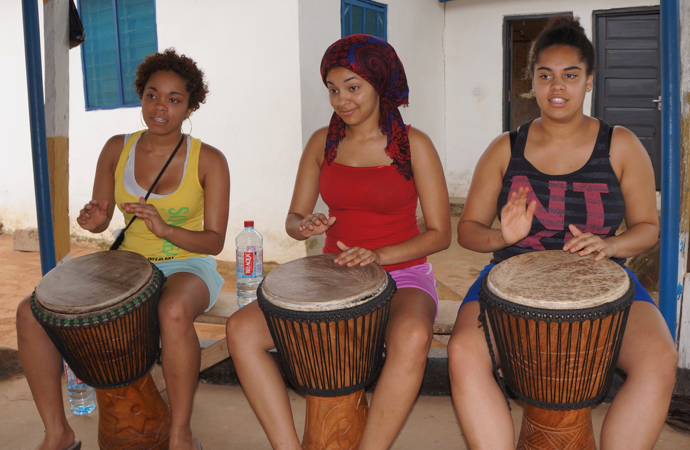 Expand knowledge of hand-drumming technique for djembe and kpanlogo drums, bells, shakers, and stick drums; create full textures of rhythms in traditional West-African genres, and how the layers of rhythms work together to create a conversation.
This class will take place on 3 consecutive Saturdays, for 1.5 hours each time:
June 3
June 10
June 17
Janice Hunton taught at the Perpich Center for Arts Education for 27 years and led the African Drumming Ensemble there for 15 years. She studied West-African music at the University of St. Thomas, Hamline University, and has traveled two times to the Dagara Music Center in Ghana.
Your instructor will provide the following materials:
Drums for up to 6 students at a time

Additional instruments
Students are asked to bring:
Joy, openness to learning something new, and a djembe or kpanlogo drum if they have one.
Skill Level
Students who have completed the Introduction to West-African Drumming or who have prior experience are welcome to join the ensemble.
Age Requirement
Students ages 12 and older are welcome to attend this class (ages 12-16 must register with another registered adult).
Location Details
Marine Mills Folk School
550 Pine St., Marine on St. Croix, MN 55047
Cost Details
Tuition: $40
NOTE: Be aware we may cancel class if a minimum number of registrations is not reached. We work to balance a teacher's need to plan for a class with students' busy schedules — not an easy task. Please register as early as possible!
If interested, you can find our cancellation policy here.