Stone Balancing (In-Person) November 19, 2022
Nov 19, 2022 10:00AM—1:00PM
Location
Marine Mills Folk School 550 Pine St. Marine on St Croix, MN 55047
Cost $60.00
Categories Outdoor Skills
Topics Peter Juhl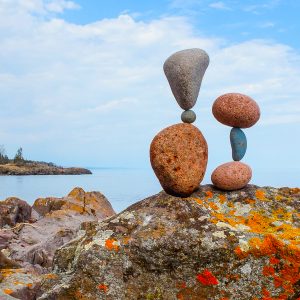 The piling of stones has been happening since ancient times, whether for spiritual purposes, identification of burial grounds, navigation, or other reasons. Stone balancing has been compared to yoga practice, as the mind becomes focused and quiet during the process of balancing the stones.
Uniting elements of performance art, sculpture, and meditation, Peter Juhl has been arranging natural stones to create works of art for over twenty years, primarily on the North Shore of Minnesota. The sculptures he creates evoke a sense of serenity and pleasing tension by juxtaposing the strength of the individual stones with the fragility of the finished creation.
Join Peter and learn to create amazing art anywhere, no special equipment or supplies needed. You'll learn to design self-supporting sculptures from ordinary stones, using only shape, weight, and friction. Class topics include a general discussion of gravity and other laws of physics, elements of composition and design and tips on more advanced stone balancing. Students will then be able to take these techniques home and create stone sculptures for use in landscaping or other art projects. Peter will also share insight regarding how to best photograph your often-temporary sculptures. Instructor will bring stones for you to use, but you can bring your own favorites if you wish. Peter is sensitive to the need to leave every natural site as you found it, so he will cover the importance of environmental responsibility regarding stone balancing.
Students to bring: snacks and/or bag lunch if needed, favorite rocks (optional)
Location Details
Marine Mills Folk School
Cost Details
Tuition: $60
Materials Fee: None