Snowshoe Lacing (Intergenerational) November 10-12, 2023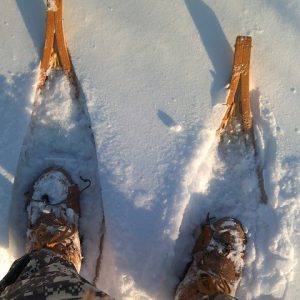 In this three-day class, students will lace snowshoes that will last for generations. The Ojibwe-style snowshoe kit provides Minnesota-made white ash frames, tubular nylon lacing, and instruction booklet. These traditional snowshoes are more adaptable to differing snow conditions than modern aluminum snowshoes. Taught by Peta Barrett, owner of Women's Wilderness Discovery based out of Ely, MN, students also learn how to put the finishing touches their snowshoes at home. Peta will share resource information for purchasing outdoor urethane to finish and protect the snowshoes, tips for maintaining them, and styles of bindings you may wish to purchase in the future.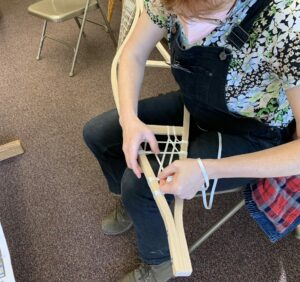 Age Requirement
Kids ages 12-18 can take the class with an adult. If both are taking home snowshoes, both have to pay for the whole class plus materials fee; otherwise, one class fee and one set of snowshoes if they are sharing snowshoes.
*** Please note this is a 3-session class:
– November 10, 12 – 5pm
– November 11, 9am – 2pm
– November 12, 9am – 2pm
Students are asked to bring:
pencil
12" ruler
sharp scissors or knife
butane lighter
Skill Level
No experience required.
Location Details
Marine Mills Folk School
550 Pine St., Marine on St. Croix, MN 55047
Cost Details
Tuition: $160
Materials Fee: $125
Total Cost: $285
Scholarships are available to help you cover the cost of this class! Currently, our scholarships cover 50% of the class price, which would be $80 in this case. If interested, please email info@marinemillsfolkschool.org.
NOTE:  Be aware we may cancel class if a minimum number of registrations is not reached. We work to balance teachers' need to plan for a class with students' busy schedules — not an easy task. Please register as early as possible!
If interested, you can find our cancellation policy here.