Saori Weaving with Chiaki O'Brien (In-Person) October 22, 2022
Oct 22, 2022 1:30PM—4:30PM
Location
Marine Mills Folk School 550 Pine St. Marine on St Croix, MN 55047
Cost $110.00
Categories Crafts
Topics Chiaki O'Brien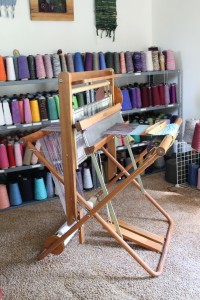 What is SAORI? SAORI is an art form and weaving style that comes from Japan. It is joyful and easy to learn.
Feel like you are 5 years old again!
Chiaki will lead you through this "freestyle" weaving process on a SAORI original floor loom. She even provides these looms! Try your hands at this fun, color blending, creative, and expressive weaving style. Every cloth woven by people with different personalities is lovely in a unique way. The irregular edges and accidental skips of thread add un-programmed beauty to each weaving. In SAORI, we do not weave only a cloth. We weave our true selves. The warp is already set up for you to start weaving right away! Your finished product will make a lively wall hanging, throw, or pillow cover. SAORI is perfect for children and enjoyable and relaxing for adults.
No experience necessary! Students are welcome to bring any materials or yarns. To learn more about Chiaki and Saori Weaving, take a moment and watch this short video. You will be inspired. Chiaki O'Brien | Saori Weaver
Location Details
Marine Mills Folk School, 550 Pine St. Marine on St. Croix, Minnesota 55047
Cost Details
Tuition: $110
Material Fee: $20