Make & Decorate a Six-Sided Papercut Box (In-Person, Intergenerational) May 20 & 21, 2023
May 20, 2023 1:00PM—4:00PM
Location
Marine Mills Folk School 550 Pine St. Marine on St. Croix, MN 55047
Cost $65.00
Topics The Hanji Crew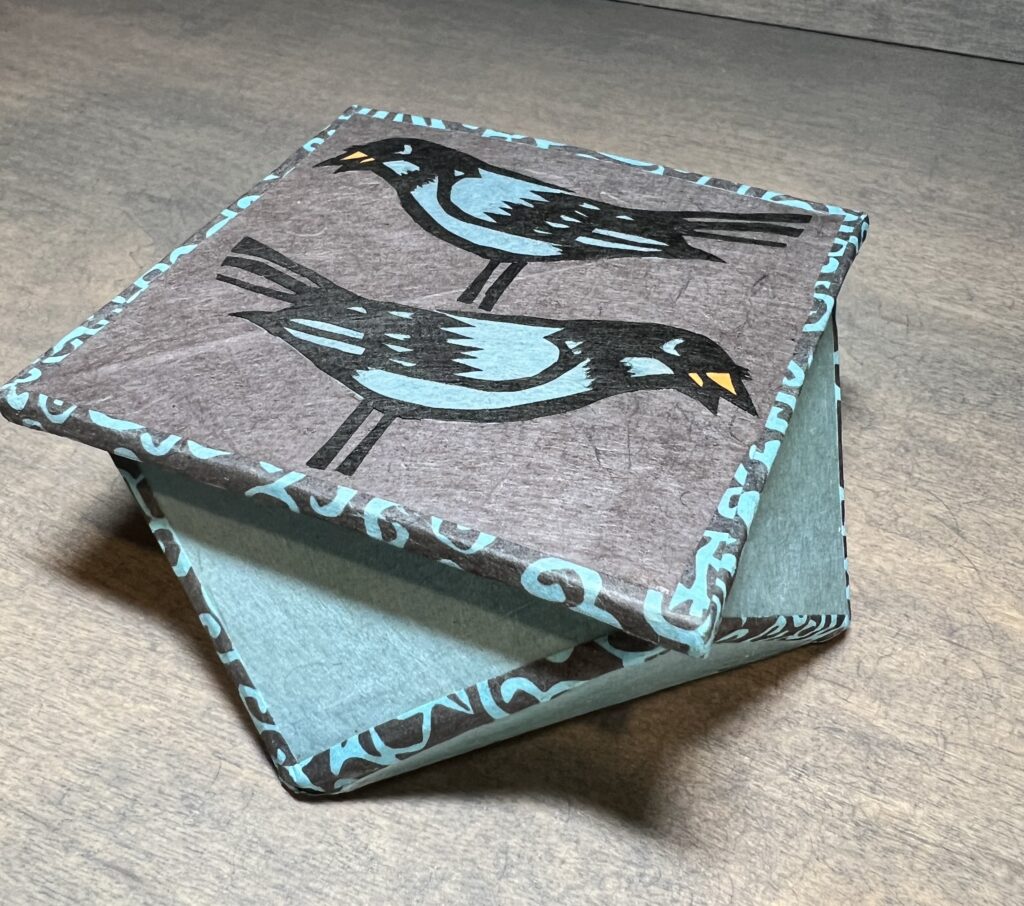 Join The Hanji Crew, your instructors Libby Pomroy and Kat Wesley, for an afternoon of creativity. Create a six-sided box using bookbinding board. Participants will measure and cut triangles using an X-Atco knife or utility knife. We'll glue those to the base of the box to get the unique and beautiful six-sided shape.
About Hanji: Korea's amazing handmade paper has provided both usefulness and beauty to Korean culture for well over a thousand years. The paper's strength makes it ideal for papercutting, as well as calligraphy, painting, and so much more.
This is a two-day class:
Saturday, May 20 and Sunday, May 21, 1-4 p.m. both days
The first afternoon ends by covering the entire box with white mulberry paper (Korean hanji) to give the box more strength. It dries overnight. Day two, you'll cover your box with colorful hanji, and cut a design with an X-Acto knife, following a pattern of your choosing for the box top. We have a rainbow of paper colors from which you can choose, as well as designs for the box top. The box is an adorable 3 inches square and very sturdy. The small size keeps board cutting to a minimum.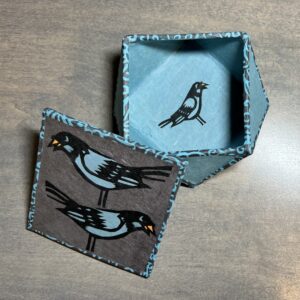 Age Requirement
Adults and crafty teens and tweens are welcome, although an adult will need to register and work with anyone younger than 15.
Skill Level
No experience needed
Location Details
Marine Mills Folk School
550 Pine St., Marine on St. Croix, MN 55047
Cost Details
Tuition: $50
Materials Fee: $15
Total Cost: $65
NOTE: Be aware we may cancel class if a minimum number of registrations is not reached. We work to balance a teacher's need to plan for a class with students' busy schedules — not an easy task. Please register as early as possible!