No More Boring Tofu: Sichuan Cooking (In-Person) November 12, 2022
Nov 12, 2022 10:30AM—12:30PM
Location
Christ Lutheran Church 150 5th St. Marine on St Croix, MN 55047
Cost $35.00
Categories Cooking
Topics Patti Isaacs Rescigno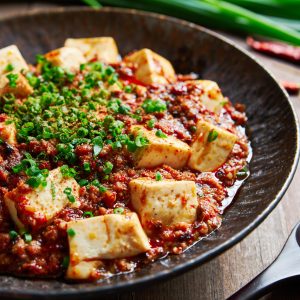 Mapo Tofu is having a moment in foodie circles these days, but instructor Patti Isaacs Rescigno has been cooking it for decades. This isn't tofu masquerading as cheese, eggs, or meat; it's tofu in its unapologetic original form, with the ma-la (numbing and spicy) seasoning characteristic of China's Sichuan province.
Since every good Chinese meal should feature more than one dish, you'll also learn to prepare cold Sichuan cabbage, too. This is not your mother's coleslaw! Patti will teach you about—and supply—the ingredients needed for this unique, spicy cuisine. Students will work in groups to prep and stir fry two Sichuan dishes. We will sample our creations in class and likely have leftovers to take home.
Students to bring: Chef's knife, cleaver, or similar. 1 or 2 cutting boards/mats. Two containers to take food home.
Cost Details
Tuition: $35
Materials Fee: $20