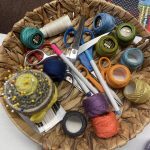 ***This event requires NO registration! Just come if you can and enjoy.
Calling all menders! Do you have a pile of mending you've been meaning to get to, but haven't quite gotten to yet? Get support from other menders at our monthly "Mend with Friends" events on the first Saturday of every month.
Share mending techniques or learn a new stitch in the company of other supportive menders – your fingers will fly as you complete your projects and gain new friends. Molly Sanford has volunteered to act as our 'mending host.'
Students to bring: mending projects, needle, thread, etc.

Cost Details
A $5 donation is encouraged, to help our nonprofit cover building costs. However, all are welcome and no one will be turned away.