Marine Mills Folk School ONLINE AUCTION – Friday, October 20 to Sunday, October 29, 2023
Oct 20, 2023 8:00AM—Oct 29, 2023 8:00PM
Location
ONLINE - Marine Mills Folk School 550 Pine Street Marine on St. Croix, MN 55047
Cost Your Generous Bid!
Categories Community Event, October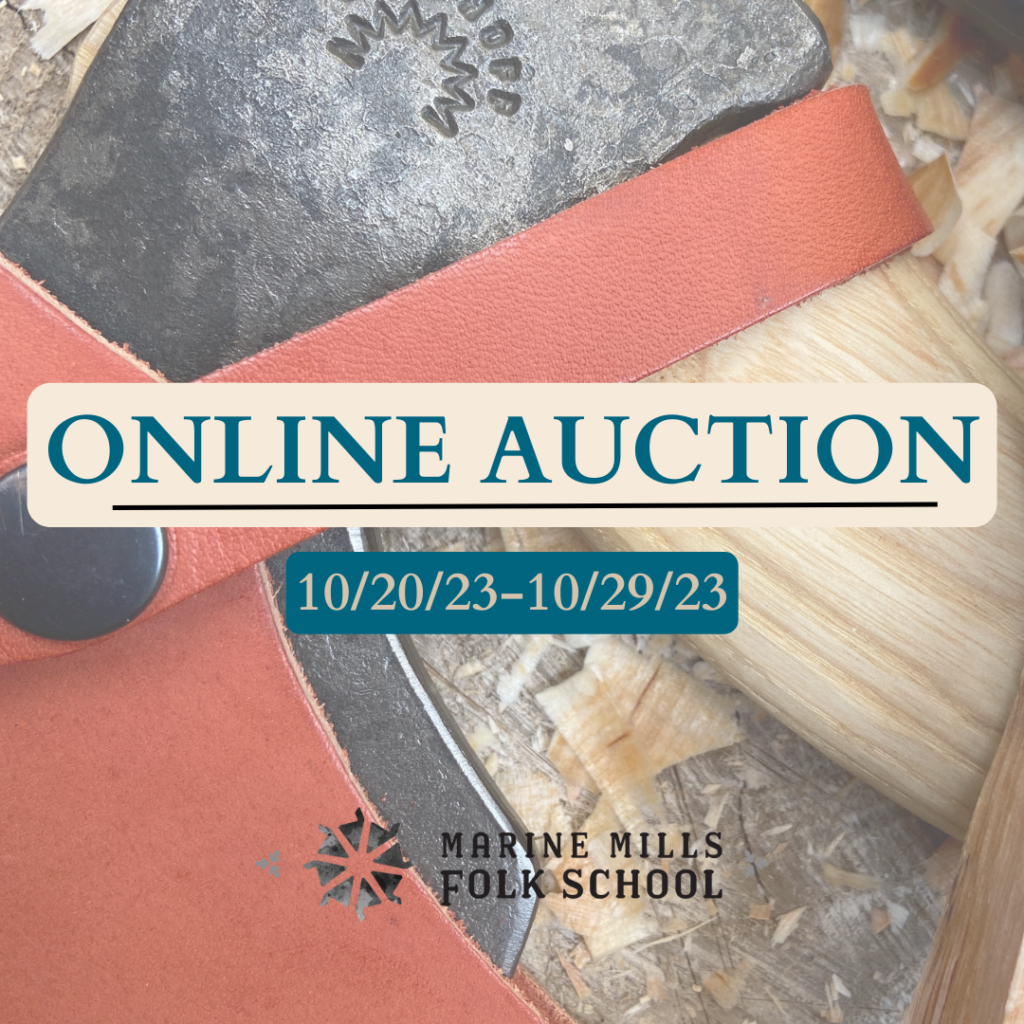 HURRY! VISIT the MMFS ONLINE AUCTION NOW!
The 2023 Marine Mills Folk School Online Auction offers a unique way to support the Folk School through purchases of artisan-made items as gifts for your loved ones (or yourself)!
You will have from 8:00 a.m. on Friday, October 20 to 8:00 p.m. on Sunday, October 29 to shop the auction and place your bids. Check frequently to see how your bids are doing, and keep the momentum going!
Our online auction is filled with beautiful handmade items donated by Midwestern regional artists, along with unique experiences offered by local fans of the folk school. Bid on warm and cozy fiber creations, unique jewelry and artwork, and thoughtful creative items.
Local supporters of Marine Mills Folk School are also offering some unique experiences for you to buy. Enjoy a dinner customized for you and served by MMFS Board members in a local historic residence, a day of handyman services by an expert woodworker, a sightseeing plane ride over the beautiful St. Croix River Valley, and more!
Looking for a way to help us reach our fundraising goal but don't need any more stuff? Honor your favorite artisan-instructor, fund tools for the Wood Studio, or simply make a donation. We welcome your generous support in any amount!
Shop the Online Auction now! From handmade artist items to experiences and even direct financial donations to the school, we welcome your support in any amount. Thank you!
*All proceeds from the 2023 MMFS Online Auction are considered general support and will be used to support program development, increase outreach and procure new tools for unique class offerings at MMFS.
Thank you.