Make Kransekake at Home! (Online) November 12 & 13, 2022
Nov 12, 2022 10:00AM—12:00PM
Location
,
Cost $45.00
Categories Cooking
Topics Laurelei Creuzer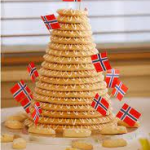 Learn the Scandinavian art of making Kransekake with a virtual two-day class.
Both Denmark and Norway claim Kransekage (Danish) and Kransekake (Norwegian) as their own. With a nod to both countries, Laurelei will walk you through the steps to create a beautiful 18-ring cake that is typically created for weddings, birthdays, anniversaries, baptisms, Christmas, and New Year celebrations. A Norwegian wreath cake is a very special creation! Sometimes a bottle of wine is hidden inside; most often it is decorated with flags.
Made from almond meal, confectioners' sugar, and egg whites, this cake is a splendid flourless, gluten-free alternative to standard celebratory cakes. Although you can construct a Kransekake free hand, students will want to purchase the set of rings prior to class. Not only does Kransekake look intricately spectacular, it is a delicious treat!
Students to bring: kransekake rings (can be purchases online), kransekake ingredients with the recipe provided prior to class.
Location Details
This online class will be held over zoom. Please note this is a two day class.
Cost Details
Tuition: $45
Materials Fee: None