(Waitlist) Learn to Make Kransekake – December 9, 2023
Dec 09, 2023 9:00AM—12:00PM
Location
Marine Mills Folk School - Christ Lutheran Church 150 5th St. Marine on St Croix, MN 55047
Cost $50.00
Topics Laurelei Creuzer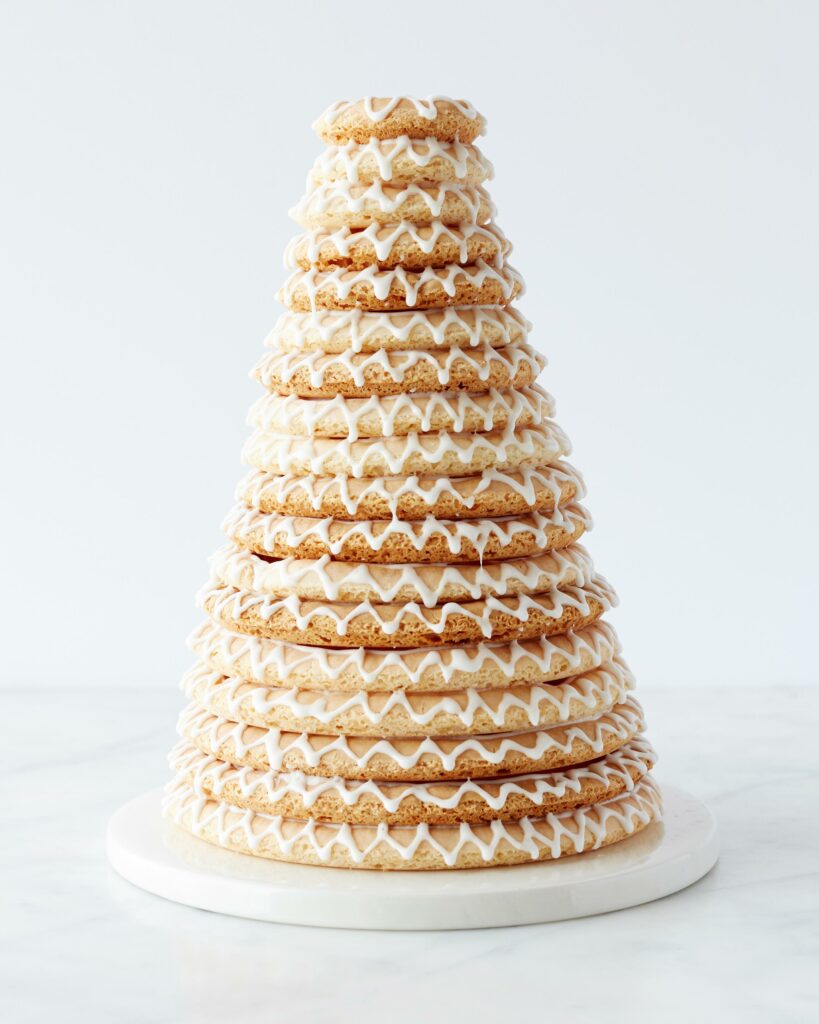 Learn the Scandinavian art of making Kransekake just in time for the holidays.
Both Denmark and Norway claim Kransekage (Danish) and Kransekake (Norwegian) as their own. With a nod to both countries, Laurelei will walk you through the steps to create a beautiful 18-ring cake that is typically created for weddings, birthdays, anniversaries, baptisms, Christmas, and New Year celebrations. A Norwegian wreath cake is a very special creation! Sometimes a bottle of wine is hidden inside; most often it is decorated with flags.
Made from almond meal, confectioners' sugar, and egg whites, this cake is a splendid flourless, gluten-free alternative to standard celebratory cakes. Although you can construct a Kransekake freehand, students will want to purchase the set of rings prior to class. Not only does Kransekake look intricately spectacular, it is a delicious treat!
Your instructor will provide the following:
refrigerated dough (during class, she will demonstrate how to make it)
Students are asked to bring:
Set of kransekake rings (can be purchased online for about $20)

apron

a plate to hold the cake and a box to take it home
Experience Level
No experience necessary.
Age Requirement
Students ages 18 and older are welcome to attend this class. Adults may bring a young person age 8 or older (let us know you are bringing a child with an email to info@marinemillsfolkschool.org, but they do not need to pay for a separate registration). This is a fun mixed-generation experience — it's like playing with playdough!
Location Details
Christ Lutheran Church
150 5th St., Marine on St. Croix, MN 55047
Cost Details
Tuition: $30
Materials Fee: $20
Total Cost: $50
NOTE: Be aware we may cancel class if a minimum number of registrations is not reached. We work to balance teachers' need to plan for a class with students' busy schedules — not an easy task. Please register as early as possible!
If interested, you can find our cancellation policy here.