Knits From The North Sea: Cables Bobbles, and Traveling Stitches (In-Person) December 3, 2022
Dec 03, 2022 9:30AM—2:00PM
Location
Marine Mills Folk School 550 Pine Street Marine on St Croix, MN 55047
Cost $102.00
Topics Lizabeth Towers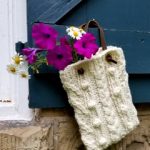 Cables, bobbles, and traveling stitches have adorned the sweaters of fishermen in the North Sea for centuries. Students will learn these skills while making a tote bag using a pattern they can adjust to their individual skill and comfort level. Options include easier/more difficult cables, using/omitting bobbles, learning traveling stitches in one/both directions. Each student's bag will be unique depending upon their choices. Tote bags are enhanced by beautiful leather handles. Liz loves knitting students and welcomes questions. The class size will be small and the atmosphere will be relaxed and friendly. Learning new knitting techniques requires learning new motor skills, so be prepared to be gentle and patient with yourself as you learn, and be ready to ask for help when you need it.
Students should bring: US Size 10 ½ [6.5mm] knitting needles (either 10" straight or 24" circular needles are fine), one cable needle for bulky weight yarn, 6 stitch markers
Location Details
Marine Mills Folk School
Cost Details
Tuition: $75
Materials Fee: $27
Total Cost: $102
Instructor will provide a materials kit which includes yarn, beautiful leather handles, and one printed pattern.