Knit a Gnome – November 4, 2023
Nov 04, 2023 9:30AM—2:00PM
Location
Marine Mills Folk School 550 Pine Street Marine on St. Croix, MN 55115
Cost $51.00
Categories Fiber Arts, November
Topics Lizabeth Towers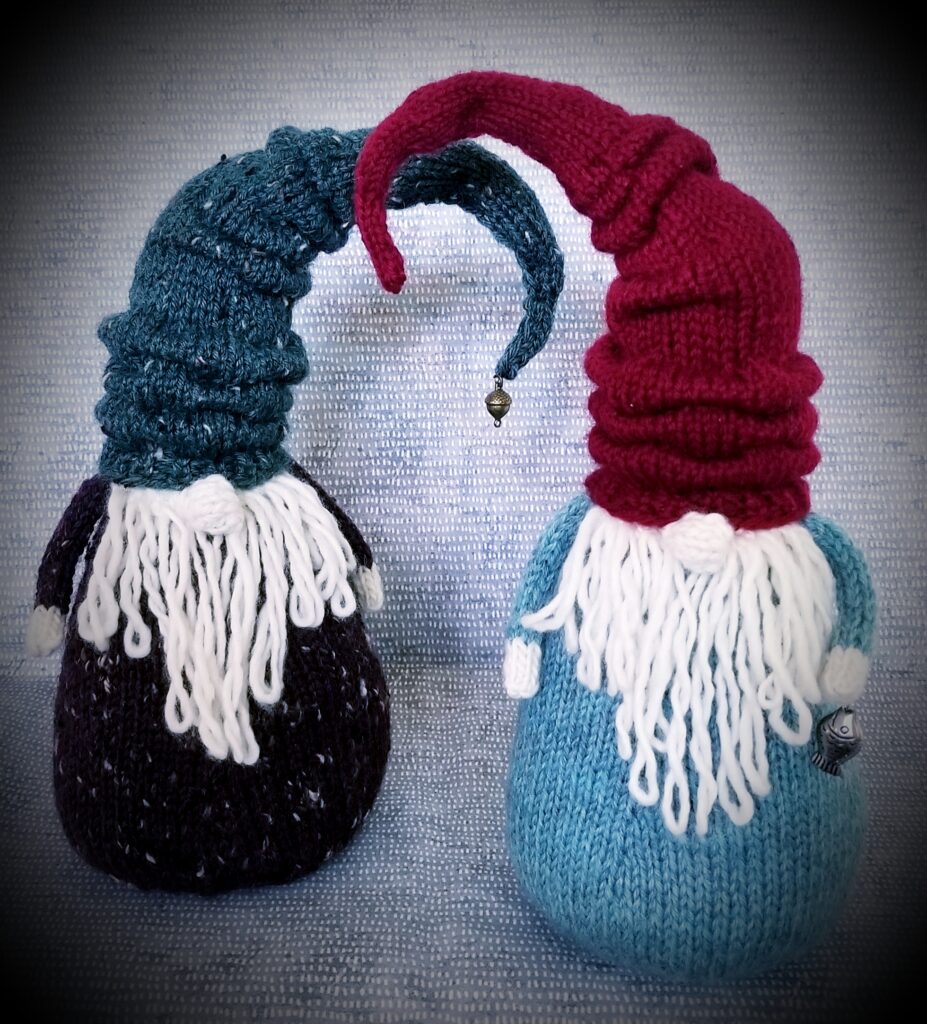 Gnomes. In Sweden, they're called "tomte," in Norway they're "nisse," in Denmark they're "nisser," and in Finland they're "tonttu." Whatever you call them, they're some of the oldest and most beloved mythical creatures in Scandinavian folklore. Of course, it's always important to make them welcome in your home at Christmastime, so if you start yours now, you'll be prepared for the holiday season. (You're wondering who we have here? Norgren, in the traditional red hat, is from Norway and loves to go ice-fishing. His best friend, Lars, took a class at MMFS and now can usually be found foraging in the woods at the Northeast edge of his farm.)
As your own little gnome takes shape, you'll learn a whole parcel of new knitting skills. Once you complete this whimsical creature, you'll no longer be a beginner, but a true intermediate knitter. Students will not finish an entire gnome in class, but will leave with one on the needles. We'll start out knitting in the round at the base of the hat, where we'll learn how to knit the shaping and the rumples while working our way up the hat. Then, we'll change directions, learn how to pick up stitches, and begin working downward on the body, complete with all shaping techniques required. Next we'll work on the fringed beard and nose and we'll finish up with a quick lesson on making i-cord for the arms.
Liz loves knitting students and welcomes questions. The class size will be small and the atmosphere will be relaxed and friendly. Learning new knitting techniques requires learning new motor skills, so be prepared to be gentle and patient with yourself as you learn, and to ask for help when you need it.
Your instructor will provide:
a materials kit which includes enough wool yarn to complete two gnomes that are approximately 11" tall and 5" wide at the base of the body, as pictured. An assortment of colors will be available.
Students should bring to class:
one set of five double-pointed knitting needles in both US Size 4 [3.5 mm] and also in US Size 5 [3.75 mm]

a cable needle

about a dozen locking stitch markers, (one of which is a contrasting color to mark beginning of round),

small scissors

yarn needle
In addition, before class, Liz will send students a link to purchase and download the pattern used, which will cost about $6.50. (If you prefer to use the Magic Loop method, bring US size 4 and 5 circular needles in the appropriate lengths.)
Age Requirement
Students ages 18 and older are welcome to attend this class.
Skill Level
This is an advanced beginner or intermediate level class. Students must be comfortable with knitting and purling and should have successfully completed several projects. Experience with knitting in the round and simple increases and decreases are helpful, but not required.

Location Details
Marine Mills Folk School
550 Pine St., Marine on St. Croix, MN 55047
Cost Details
Tuition: $40.00
Materials Fee: $11
Total Cost: $51
NOTE: Be aware we may cancel class if a minimum number of registrations is not reached. We work to balance a teacher's need to plan for a class with students' busy schedules — not an easy task. Please register as early as possible!
If interested, you can find our cancellation policy here.