Intro to Nalbinding – February 10, 2024
Feb 10, 2024 9:00AM—3:00PM
Location
Marine Mills Folk School 550 Pine Street Marine on St Croix, MN 55047
Cost $90.00
Topics Janet Ames, Jenni Corbett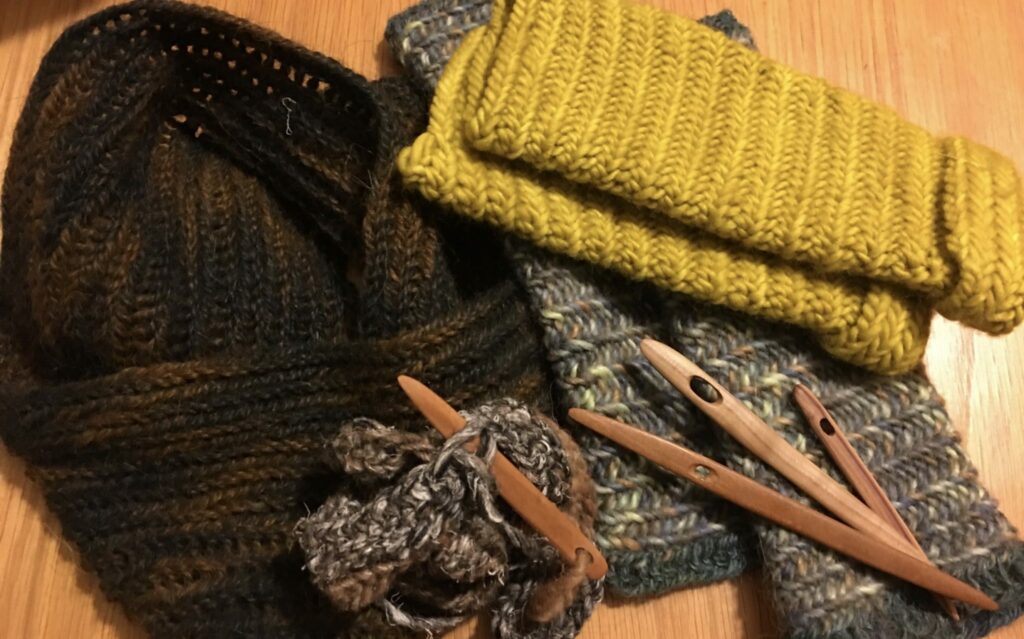 Experience the joy of creation, and shaping things out of simple materials.
Explore this ancient form of textile construction. Nålbinding (needle stitching) can be traced back to the bronze and iron age. This fiber technique preceded knitting and crochet and is seen more recently in Scandinavian mittens, hats, stockings and milk strainers.
Students will begin by making their own wooden needles from cherrywood (provided) and proceed to learn the basic stitches of nålbinding made by interlocking loops. Construction of a warm cowl or hand warmers will be just the beginning of endless possibilities with nålbinding!
Your instructor will provide:
The instructors will have limited supplies of yarn which can be purchased from her directly during the class. If you may be interested, bring additional cash.
Students are asked to bring:
One skein of bulky SINGLE-PLY yarn (100% wool) i.e. Lamb's Pride Bulky 125yds, Noro Hitsuji 110 yds, Alafoss Lopi 109 yds

If your class is scheduled over a lunch hour, we highly recommend you bring a lunch or click here to learn about local eating opportunities in the area.
Skill Level
No experience needed.
Cost Details
Tuition: $80
Material Fee: $10
Total Cost: $90
NOTE: Be aware we may cancel class if a minimum number of registrations is not reached. We work to balance teachers' need to plan for a class with students' busy schedules — not an easy task. Please register as early as possible!
If interested, you can find our cancellation policy here.