Intro to Watercolor Quilting (In Person) June 24, 2023
Jun 24, 2023 10:00AM—4:00PM
Location
Marine Mills Folk School 550 Pine Street Marine on St Croix, MN 55047
Cost $80.00
Categories Fiber Arts, June
Topics Maxine Rosenthal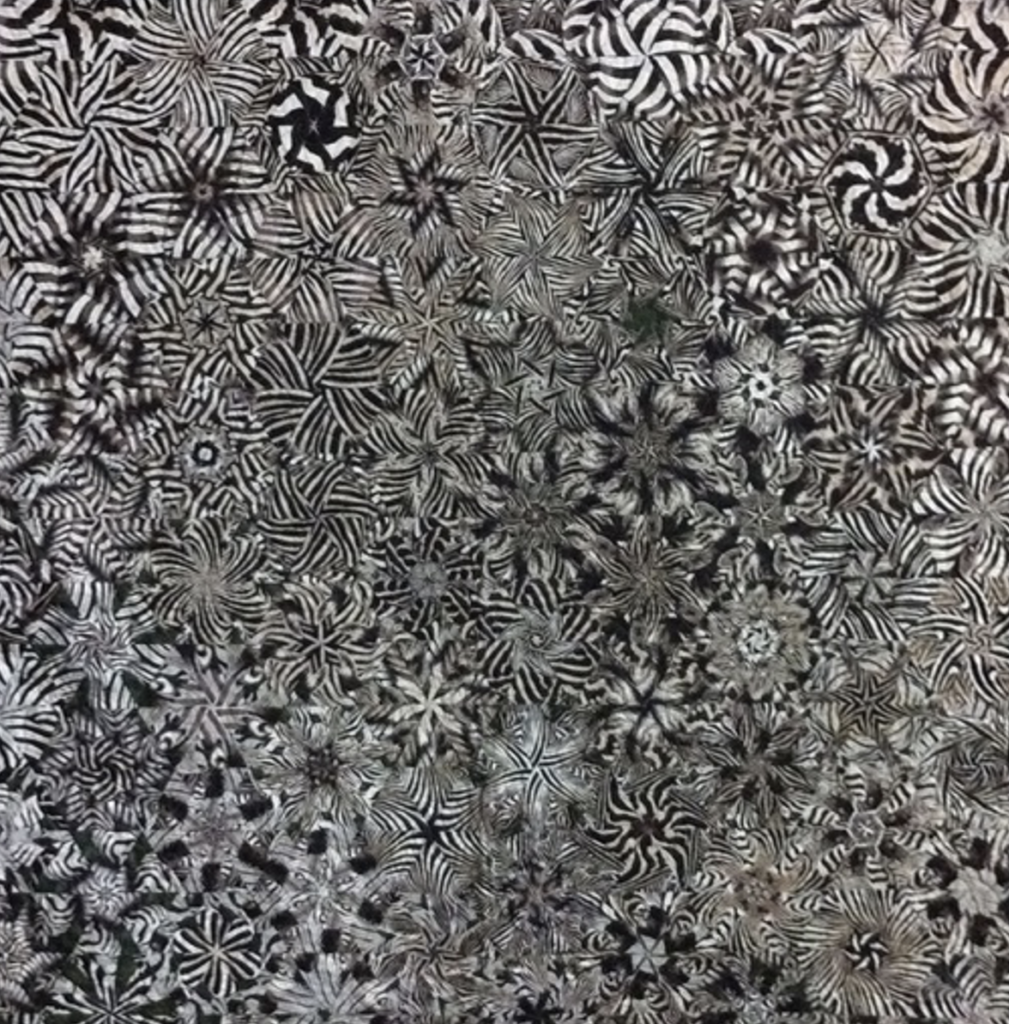 This is an entirely new approach to creating a quilt top, where the fabric does all the work. Though only one fabric is used, the possibilities are limitless. Maxine has developed a method that is easy enough for beginners and yet challenging enough for the advanced quilter. It is a method of design. The assumption is that we can all sew a straight line, but design has been considered hard and unapproachable. Like looking at a blank canvas, the beginning is the hardest.
In this class, students will start making a quilt using their own sewing machine that they will finish at home.
This process begins by making kaleidoscopes, by rotary cutting and sewing, something we all love to do. Kaleidoscopes are fun to put together, each more beautiful than the last and each an unexpected surprise. By cutting the fabric into relatively small triangles, individual colors are separated, like forming a palette of colors. The fun is to then paint with this palette, to move the shapes around the design wall, to play with the colors, to move from one color to the next, to rearrange the original fabric to your liking.
In a 6-hour class, enough kaleidoscopes are created so that the design elements can be taught and so that the student can practice these theories and watch what happens as they move the kaleidoscopes around the design wall.
Choice of fabric is a key element. My mantra is, 'if you like the color and movement of the original fabric, you will love the finished quilt. If you love the color of the original fabric, you will love designing with it.'
Students are asked to bring:
4-5 yards of fabric with at least 6 pattern repeats. Do NOT prewash the fabric!
Rotary mat, rotary cutter, rulers – one long, one short, and one 60-degree ruler, preferably a Clearview Triangle Ruler.
Flower Pins. These pins lay flat; flat enough for a ruler to be over them and the ruler will still be flat against the fabric.
Design wall – piece of flannel or batting. Something that the fabric will stick to without being pinned so that the kaleidoscopes can easily be moved around.
Sewing machine
Basic sewing supplies
Iron and optional ironing board
Bag lunch, since the class goes over the lunch hour
Skill level
No experience necessary, but you do need to know how to use your sewing machine to sew a straight line.
Age Requirement
Students ages 18 and older are welcome to attend this class.
Location Details
Marine Mills Folk School
550 Pine St., Marine on St. Croix, Minnesota 55047
Cost Details
Tuition: $80
Material Fee: $0
Total Cost: $80
Your quilt will be more interesting if:
– YOU like the colors.
– There is a minimal background in the fabric. Too much background produces kaleidoscopes with no design and all background.
– There is movement – flowers, animals, amorphous shapes. A flowing leaf will produce a more interesting kaleidoscope than a bare stick.
– Avoid straight lines as in buildings or stripes. They are not as dynamic and they require much more precision when sewing.
– Skip fabrics with an obvious repeat every few inches, to avoid repeats of exactly the same kaleidoscope. You want as much variety as possible.
– I like large floral or animal prints. It is interesting to see a kaleidoscope formed of fish tails or lion's noses or the tires of a car or even a cowboy's hand waving as he rides the bucking bronco.
– It might be helpful, when shopping, to use 2 mirrors arranged in a 'V' placed on the fabric to get a hint as to the kaleidoscopes it will form.
NOTE: Be aware we may cancel class if a minimum number of registrations is not reached. We work to balance teachers' need to plan for a class with students' busy schedules — not an easy task. Please register as early as possible!
If interested, you can find our cancellation policyhere.