Fused Glass Heart & Christmas Tree – October 7, 2023
Oct 07, 2023 12:30PM—4:00PM
Location
Marine Mills Folk School 550 Pine Street Marine on St Croix, MN 55047
Cost $125.00
Topics Susan Tracy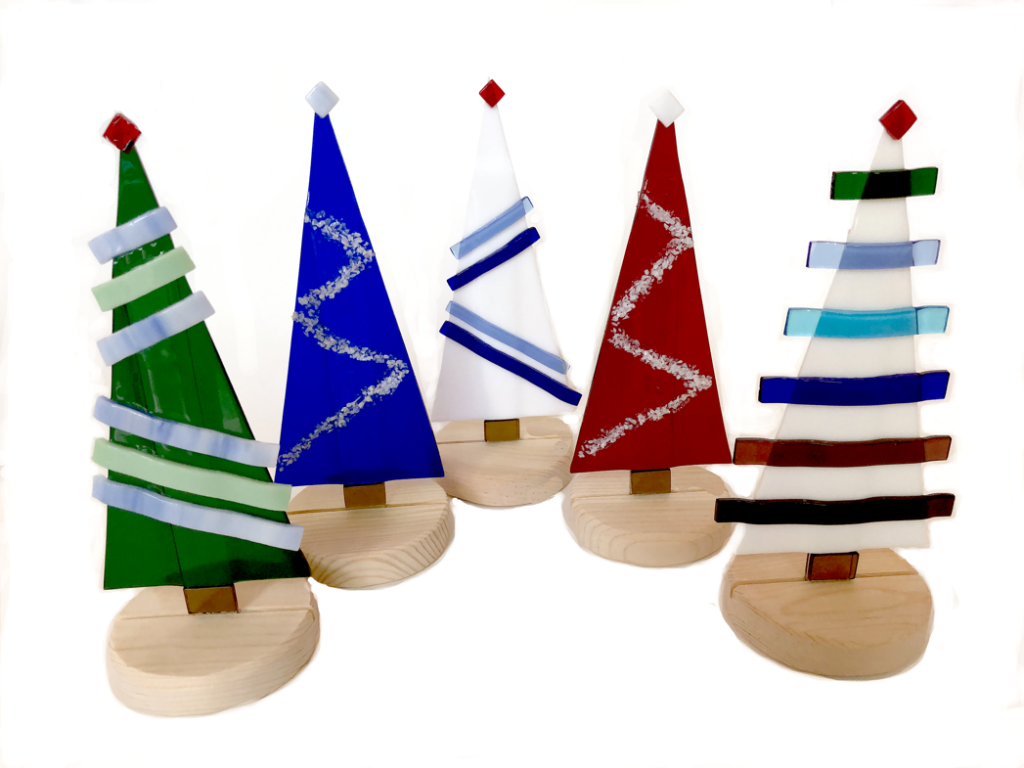 Design and create two decorative fused glass pieces using accessory glass. Join Twin-Cities based glass artist Susan Tracy to make two one-of-a-kind items for gifts or to display. Students will be introduced to the art of glass fusing and casting.
You'll create a unique fused glass heart by layering accessory glass in a mold. You can design your heart in an array of colors using crushed glass frit, glass stringer and noodles, natural mica flakes (called "nature's glitter") and sparkly dichroic glass and fill a 2″ x 1.5″ x .75″ heart-shaped mold for fusing.
And, you'll also get a chance to add something new and festive to your holiday decor this year by making a one-of-a-kind 8″ tall fused glass Christmas tree in your choice of fun colors and designs. You can decorate a pre-cut glass tree base with strips of glass, colorful glass noodles, stringer and crushed glass frit. After fusing, your glass tree will be mounted for you in a beautiful custom-made 3-inch circular hardwood stand, for display.
*Note: After class, the instructor will fuse your heart and tree in her studio, and return them to the folk school for pickup in about three weeks.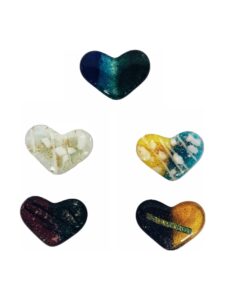 Students are asked to bring the following materials:
eye glasses if needed for close work
Due to the use of glass frit and mica during class, students are requested to wear the provided KN95 masks.
Skill Level 
No experience needed.
Age Requirement
Students ages 18 and older are welcome to attend this class.
Location Details
Marine Mills Folk School
550 Pine St., Marine on St. Croix, MN 55047
Cost Details
Tuition: $80
Materials Fee: $45
Total Cost: $125
NOTE: Be aware we may cancel class if a minimum number of registrations is not reached. We work to balance a teacher's need to plan for a class with students' busy schedules — not an easy task. Please register as early as possible!
If interested, you can find our cancellation policy here.