Drum Making (In-Person) March 4, 2023
Mar 04, 2023 11:00AM—4:00PM
Location
Marine Mills Folk School 550 Pine St. Marine on St Croix, MN 55047
Cost $165.00
Topics Wayne Manthey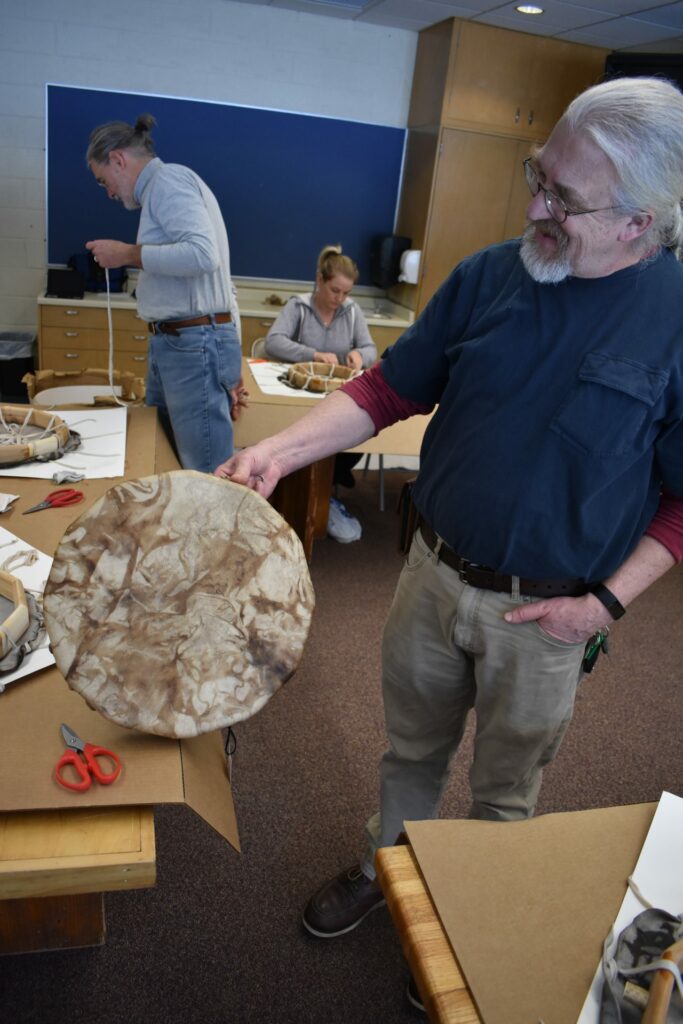 Wayne Manthey is a nationally known drum maker and teacher of drum making. His approach is spiritual, honoring the animals who provided the hides and the trees who donated the wood. The healing properties of a drum are found in the elements that make it: wood and animal hide. Making a personal frame drum is a journey that is individually and spiritually meaningful. The drum symbolizes the heartbeat of life, the heartbeat of the community. It is not simply an art form, but a tool for cleansing, centering and focusing one's intentions for health and happiness.
Students will choose a pre-constructed frame and deer hides. Focusing on your personal creative flow, Wayne will take you through the steps to create your individual drum.
*Note: If you would like to make a larger drum, email us at info@marinemillsfolkschool.org for more information.
Your Instructor will provide the following materials:
All materials needed to make the drum
Students are asked to bring the following materials:
a small stone or token to add to the back handle piece of the drum (optional)
water/snacks, as there are no food facilities at the school.
Age Requirement
Students ages 18 and older are welcome to attend this class.
Skill Level
No experience needed.
Location Details
Marine Mills Folk School
550 Pine St., Marine on St. Croix, MN 55047
Cost Details
Tuition: $75
Material Fee: $90
Total Cost: $165
NOTE:  Be aware we may cancel class if a minimum number of registrations is not reached. We work to balance a teacher's need to plan for a class with students' busy schedules — not an easy task. Please register as early as possible!