Crochet a Rope Basket (In-Person) May 13, 2023
May 13, 2023 10:00AM—1:00PM
Location
Marine Mills Folk School 550 Pine Street Marine on St Croix, MN 55047
Cost $80.00
Categories Fiber Arts, May
Topics Cara Corey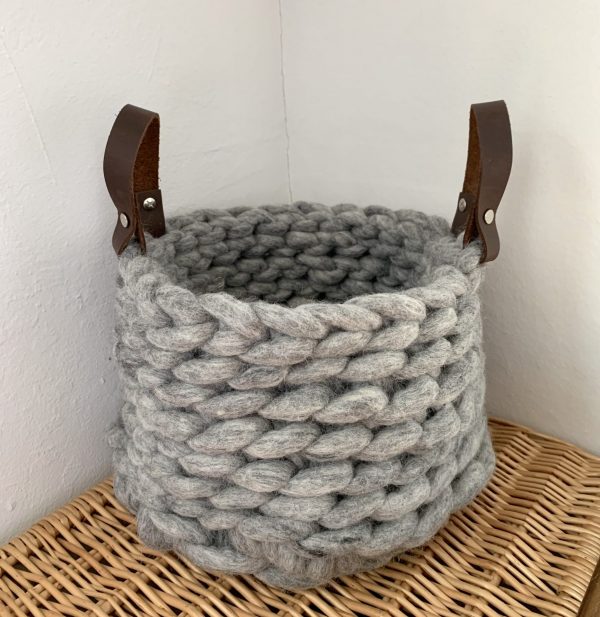 Join knit and crochet designer Cara Corey for a beginning crochet class, in which you will learn how to construct a sturdy basket with leather handles (perfect for storing craft supplies, toys or other household items) with felted wool rope and your fingers rather than a crochet hook. No crochet experience is required. These baskets also make great covers for potted plants.
Students will start by learning how to make increases to create a flat-bottomed round. Then they will learn to crochet a pretty stitch to create the sides of the basket. Finally, they will attach leather handles to make the basket easy to carry. Students will also learn how to source materials and adjust the pattern to make baskets in different sizes and shapes.
The finished basket is about 9 inches in diameter and 8 inches tall.
Your instructor will provide the following materials:
35 yards of 1/2-inch thick felted wool yarn (a selection of colors will be available)

Two leather straps with holes punched

Four sets of silver Chicago screws to connect straps
Students are asked to bring: 
bag lunch and/or snacks if needed
Skill Level
No crochet experience required.
Age Requirement
Students ages 16 and older are welcome to attend this class. 
Location Details
Marine Mills Folk School
550 Pine St., Marine on St. Croix, MN 55047
Cost Details
Tuition: $50
Materials Fee: $30 (the giant yarn normally costs $55 per ball, but Cara gets it wholesale!)
Total Cost: $80
NOTE: Be aware we may cancel class if a minimum number of registrations is not reached. We work to balance teachers' need to plan for a class with students' busy schedules — not an easy task. Please register as early as possible!