Community West African Drumming Ensemble (Intergenerational) October 21, 2023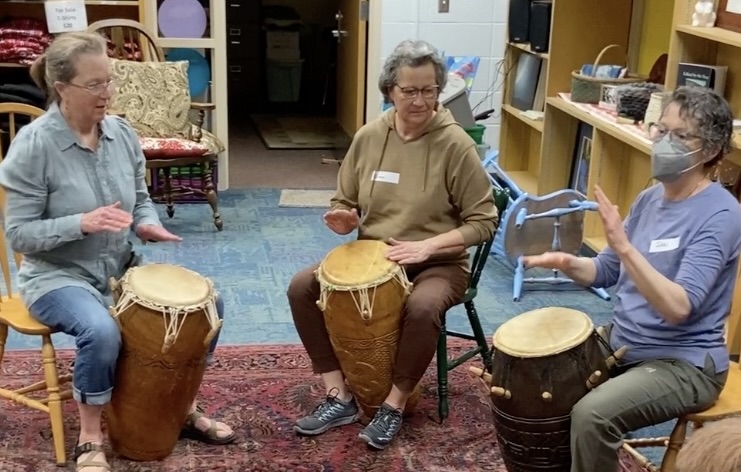 ***Please register so we know how many people to expect. A donation of $10 is requested at the time of the ensemble unless it is a hardship to donate.  ***
Expand knowledge of hand-drumming technique for djembe and kpanlogo drums, bells, shakers, and stick drums; create full textures of rhythms in traditional West-African genres, and how the layers of rhythms work together to create a conversation.
The drumming ensemble meets every Saturday from 3-4:30 p.m. unless otherwise noted. 
About the instructor: Janice Hunton taught at the Perpich Center for Arts Education for 27 years and led the African Drumming Ensemble there for 15 years. She studied West-African music at the University of St. Thomas, Hamline University, and has traveled two times to the Dagara Music Center in Ghana.
Your instructor will provide the following materials:
Drums for up to 6 students at a time

Additional instruments
Students are asked to bring:
Joy, openness to learning something new, and a djembe or kpanlogo drum if they have one.
Skill Level
Students who have completed the Introduction to West-African Drumming or who have prior experience are welcome to join the ensemble.
Age Requirement
Students ages 12 and older are welcome to attend (ages 12-16 must come with another registered adult).
Location Details
Marine Mills Folk School
550 Pine St., Marine on St. Croix, MN 55047
Cost Details
A $10 donation is encouraged, to help our nonprofit cover building costs. However, all are welcome and no one will be turned away.