(Waitlist) Challenge Yourself Series: Mosaic Knitting (In-Person) March 18, 2023
Mar 18, 2023 9:30AM—12:30PM
Location
Marine Mills Folk School 550 Pine Street Marine on St. Croix, MN 55115
Cost $70.00
Categories Fiber Arts, March
Topics Lizabeth Towers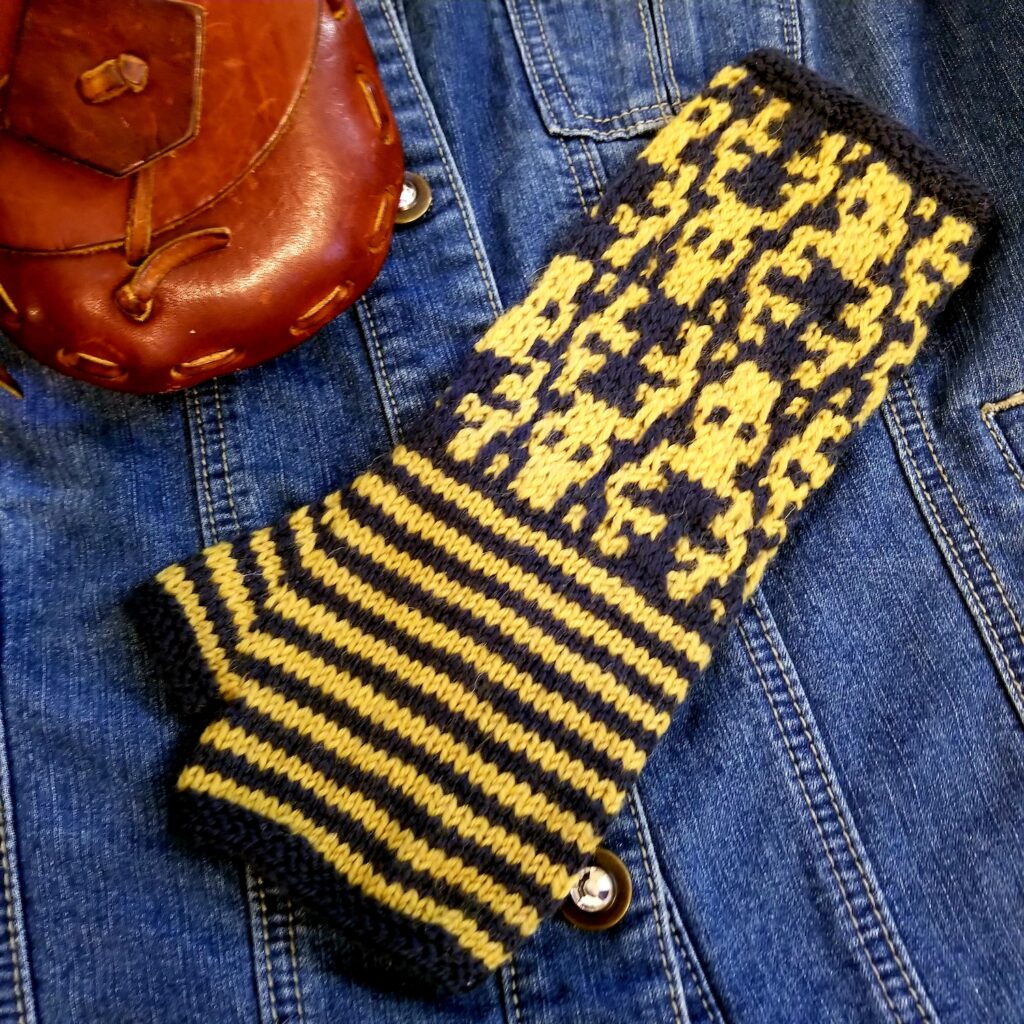 It IS possible to knit intricate colorwork designs using only one strand of yarn per row! It's called mosaic knitting, and it's almost too good to be true. This knitting method of colorwork is so streamlined and easy that suddenly, colorwork is accessible to everyone who is comfortable with knitting and purling. 
Students will acquire a working knowledge of how to read a mosaic color chart, how to knit mosaic, how to easily manage the floats that result from mosaic knitting, and just for good measure, how to make jogless 2-round stripes when knitting in the round. The class project will be a pair of charming fingerless mitts as shown in the photo.
The class size will be small and the atmosphere will be relaxed and friendly. Learning new knitting techniques requires learning new motor skills, so be prepared to be gentle and patient with yourself as you learn, and be ready to ask for help when you need it.
Skill Level
This class is most appropriate for intermediate level knitters who are comfortable with knitting and purling as well as knitting in the round, and have completed several projects.
Your instructor will provide:
Materials kit that includes two lovely contrasting skeins of wool, sufficient to make the fingerless mitts that will be started in class. The kit also includes a handout with helpful information on mosaic. After registration and before the class begins, students will receive an email with instructions about where to purchase and download the pattern (which costs $5.50) for the class project.
Students should bring to class:
One set (including either 4 or 5 needles) of each US Sizes 3 [3.25mm] and 4 [3.5mm] double pointed needles, about 7" in length

a small pair of scissors

several stitch markers
Location Details
Marine Mills Folk School
550 Pine St., Marine on St. Croix, Minnesota 55047
Cost Details
Tuition: $50.00
Materials Fee: $20.00
Total Cost: $70.00
NOTE: Be aware we may cancel class if a minimum number of registrations is not reached. We work to balance a teacher's need to plan for a class with students' busy schedules — not an easy task. Please register as early as possible!