Build a Wooden Longbow – February 16-18, 2024
Feb 16, 2024 5:00PM—9:00PM
Location
Marine Mills Folk School 550 Pine St. Marine on St Croix, MN 55047
Cost $500.00
Categories February, Woodworking
Topics Rick Yonker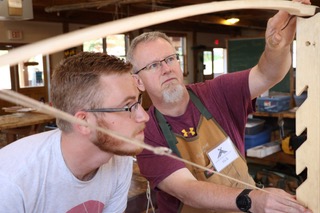 This course takes students through the step-by-step process of crafting a wooden longbow. To facilitate learning about constructing a traditional bow, students will start with a rough-cut stave of hickory which is already in the shape of a bow. Students will learn the important processes of backing their bows with linen and even weaving their own Flemish twist bow strings out of Dacron.
Throughout the course, participants learn the basics of working wood with a drawknife, specialized rasps, a cabinet scraper and other traditional woodworking hand tools. Class discussion includes design theory, different bow shapes, woods used to make bows and the art of tillering a bow (getting it to bend correctly). If time permits, students will be able to practice shooting their bows and learn basic shooting techniques.
Participants can expect to leave with an unfinished bow that shoots. Draw weights will vary as the goal is to learn to build a basic wooden longbow. We will not be applying any finish or bow handle grip material so students will need to complete this after the class on their own time frame. We will discuss the process of finishing a bow.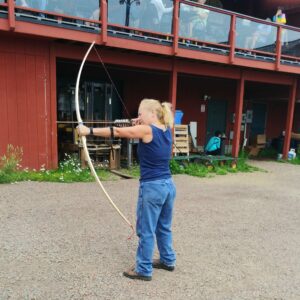 *This class runs over three days:
Friday, February 16 from 5-9 p.m.
Saturday, February 17 from 9 a.m.-5 p.m.
Sunday, February 18 from 9 a.m.-5 p.m.
Your instructor will provide the following materials:
bow stave
string-making material
use of specialized tools and bow stringer
Students are asked to bring:
Light work gloves (not the super thick leather heavy ones)
We highly recommend you bring a lunch as this class does go over the lunch hour. If you need to buy lunch, you can do so at these local businesses.
Skill Level
Students do not need basic skills to work with wood as these will be taught and demonstrated during the class. Students will need average hand arm and shoulder strength.
Age Requirement
Students ages 16 and older are welcome to attend this class. Ages 16-17 can register with parent permission via an email to info@marinemillsfolkschool.org.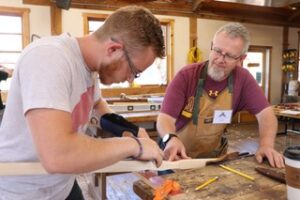 Location Details
Marine Mills Folk School
550 Pine St., Marine on St. Croix, MN 55047
Cost Details
Tuition: $300
Materials Fee: $200
Total Cost: $500
NOTE: Be aware we may cancel class if a minimum number of registrations is not reached. We work to balance teachers' need to plan for a class with students' busy schedules — not an easy task. Please register as early as possible!
If interested, please click here to review our cancellation policies.