Spoon Carving for the Terrified! – September 22, 23 & 24
Come spend two and a half days learning to carve a spoon with Fred Livesay.  This class begins on Friday, September 22 from 6pm to 8pm and then on both Saturday and Sunday from 9 to 5pm.
Spoon carving is an excellent way to begin a life-long journey into "green woodworking."  If you have ever wanted to learn how to make something more than a pointed stick for marshmallows & hot dogs, this is the place to start.  Spoon carving has a long history in Scandinavia and Europe.  Spoons were a necessary daily utensil and important as gifts and in many ethnic courting rituals.  All our ancestors ate with wooden spoons.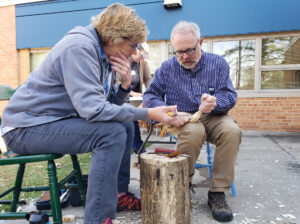 Confidence in use of the knife and axe is the goal of this thoughtful class.  Students will learn the knife strokes needed to successfully make a spoon beginning with try sticks; then moving to small useful projects.  The remainder of class will be spent making a spoon from blanks provided by the instructor.  Students wishing to make their own spoon blanks, will do so under the supervision of the instructor, using an axe.   Other important skills students will learn are knife & axe safety, sharpening, wood choice, spoon design & layout and finishes.  (This class requires hand strength such as that needed to open a tight jar lid)
Students to bring the following required tools:
Mora carving knife, no. 106 or 120 (no chip carving, hunting or Flexcut knives)

Pencils or gel pens

Paper for drawing on

Flexible straight edge (does not need to be a ruler)
Instructor will have tools for use by students, as well as knives for sale.
The knife and axe skills you learn in this class makes you eligible for the following:
-Advanced Spoon Carving
-Knutkorg Basket
-Kuksa Carving
-Wooden Bowl Carving
Age Requirement
Students ages 15 and older are welcome to attend this class.
Skill Level 
No experience needed
Location Details
Marine Mills Folk School
550 Pine Street, Marine on St. Croix, MN
Cost Details
Tuition: $165.00
Material Fee: $30.00
Total Cost: $195.00
NOTE: Be aware we may cancel class if a minimum number of registrations is not reached. We work to balance a teacher's need to plan for a class with students' busy schedules — not an easy task. Please register as early as possible!
If interested, you can find our cancellation policy here.