Beginning Spoon Carving (In-Person) February 18, 2023
Feb 18, 2023 10:00AM—1:00PM
Location
Marine Mills Folk School 550 Pine Street Marine on St. Croix, MN 55115
Cost $95.00
Categories February, Woodworking
Topics Erik Vevang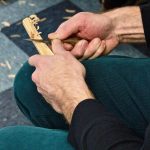 This is an introductory spoon-carving class, great for beginners and those wanting to review the foundations of carving. Class will start with an overview of traditional knife grips and carving techniques. Students will be given the time and material to practice these skills on wooden sticks before carving a medium-sized serving or cooking spoon. With your instructor Erik providing support and expert guidance, the goal of the class is for each student to complete hand carving a spoon!
Students are asked to bring:
bag lunch and/or snacks, carving tools (optional) instructor will provide all carving tools needed for class
Age Requirement
This class is appropriate for adults and 'young adults' aged 15 or above. Each young adult MUST be accompanied by an adult that is also registered for the class.
Skill Level
No experience required
Location Details
Marine Mills Folk School
550 Pine St., Marine on St. Croix, Minnesota 55047
Cost Details
Tuition: $60
Materials Fee: $35
Total Cost: $95
NOTE: Be aware we may cancel class if a minimum number of registrations is not reached. We work to balance a teacher's need to plan for a class with students' busy schedules — not an easy task. Please register as early as possible!