Beginning Photography for Kids Ages 9 to 14 (Intergenerational) February 3 & 10, 2024
Feb 03, 2024 9:00AM—11:30AM
Location
Marine Mills Folk School 550 Pine Street Marine on St Croix, MN 55047
Cost $85.00
Categories February, Visual Arts
Topics Carl Wegener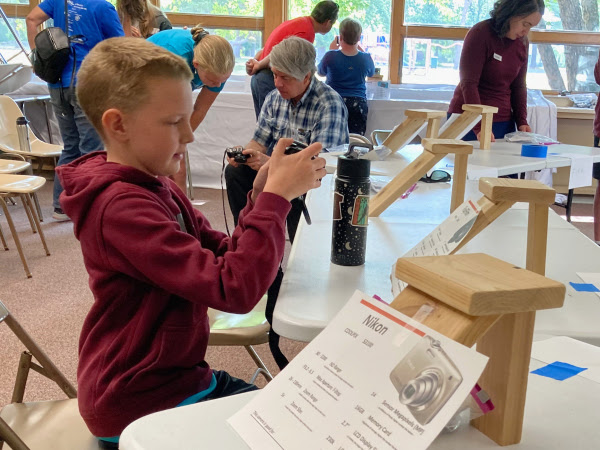 A picture is worth a thousand words! This class will empower students to begin to capture images that express themselves in relation to the world around them. Students will be introduced to technical and aesthetic aspects of photography, providing them with the foundation for life-long enjoyment & expression.
This class is designed for 9- to 14-year-olds and will take place on 2 consecutive Saturdays from 9:00-11:30 each Saturday (February 3 & 10).
Bonus: During class, each student will choose a digital camera to own which will keep them shooting photos even after the class ends. Cameras are name-brand models updated for this class that have been gifted through the kindness of others.
Special note:  Adults are invited to share in the fun of learning a new skill with a younger person, and will learn tips on how to encourage their kids to further develop this newly acquired skill. Each child must be accompanied by an adult. There is no charge for the additional person, just complete the registration for one adult and email the name and age of the student photographer to info@marinemillsfolkschool.org.
Students are asked to bring the following materials:
Snacks if needed, as there are no food facilities at the school
Location Details
Marine Mills Folk School
550 Pine Street, Marine on St. Croix, MN 55047
Cost Details
Tuition: $65 (includes a camera for your child)
Materials Fee: $20
Total Cost: $85
NOTE: Be aware we may cancel class if a minimum number of registrations is not reached. We work to balance teachers' need to plan for a class with students' busy schedules — not an easy task. Please register as early as possible!
If interested, you can find our cancellation policy here.