Advanced Spoon Carving (In-Person) October 21 and 22, 2022
Oct 21, 2022 9:00AM—5:00PM
Location
Marine Mills Folk School 550 Pine Street Marine on St Croix, MN 55047
Cost $225.00
Categories Crafts
Topics Fred Livesay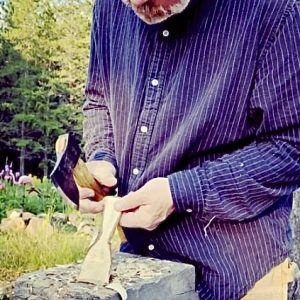 Two days will be spent in the rigorous, pursuit of better spoons with Fred Livesay who began carving spoons at age 7 and who now has 40 years of teaching, from which to draw.
Class begins with a thorough examination of spoons from all angles and what makes good and great spoons.
Discussions, including; wood choice, design and proportions, bowl and handle shapes are in order. You will be challenged to design new spoons, copy others and learn how to "see." There will be ample time for class critiques each day, as well as, demonstrations on efficient chopping out of blanks, using crooks, and getting the best edge on tools.
***This class is not open to beginners. You must have made at least 20 or more spoons to take this class. Good hand strength is a must for this class, as well. An example of necessary hand strength for this class is the ability to open a tight jar lid.
Required Tool List:
Bring your favorites of the following:
Mora 120 or 106 or the equivalent that you usually use (do not bring flat plane carving knives as they are not acceptable for spoon carving) Hook knives or gouges
Sharpening stones
Appropriate saw
Your own chopping block if it is portable
Pencils and/or pens for drawing on paper & green wood
A flexible ruler or straight edge
Artists drawing pad at least 8 1/2" X 11"
An eraser
Any other tools you need or think appropriate
An assortment of your spoons that you really like, that you have made and/or collected to share with the class
Location Details
Marine Mills Folk School
Cost Details
Tuition: $225.00
Material Fee: $25.00