Sourdough from Start to Finish
Details
Date & Time: April 3, 2020 @ 7:00 pm - 8:30 pm
|
Recurring Event
(See all)
One event on April 4, 2020 at 9:00 am
Class Fee: $90
Class fee includes cost of material for this class, if provided.
Skill Level: No experience needed
Learn all the secrets of sourdough bread making!  This is an eight-hour class, starting Friday evening and picking up again on Saturday. Students are encouraged to come on Friday to get a sneak preview and to help start the fermentation process. On Saturday master breadmakers Bryce and Ross will take you through the steps of making bread without commercial yeast, along with instructions for the caring and feeding of your own starter.  When you have finished this class, you will have the confidence to not only bake using your own sourdough starter, you will be ready for more advanced sourdough baking techniques, enabling you to bake all sorts of sourdough artisan breads.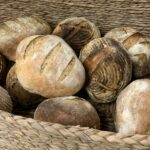 2 Class times:   Friday: 4/3/20 from 7:00pm-8:30pm &  Saturday: 4/4/20 from 9:00am-3:00pm
Of course, everyone will also leave with bread!
Kitchen Location: Christ Lutheran Church
150 5th St, Marine on St Croix, MN 55047     (Just down the block from us)
General Age Policy:
All classes are for adults (18+) unless otherwise noted.
Class Minimums:
Be aware we may cancel 5 days before class date if a minimum number of registrations not reached. We work to balance teachers' need to plan for a class with students' busy schedules -- not an easy task. Please register as early as possible!