Did you know eco-friendly fish leather uses the skin of processed fish that would otherwise be thrown away?  Fish leather is being used today in the design of handbags, shoes, even clothing. In this class, you'll learn how to create your own leather bi-fold wallet using tanned/dyed salmon leather!  Fish leather is the second strongest leather (after kangaroo leather – who knew!?) Each student will take home a wallet with a cash pocket plus 2-4 credit card pockets. The salmon leather is imported from Iceland and will be available in different colors.
Make  a unique and beautiful gift for someone, or forget about being generous and make a really cool wallet for yourself!  Learn about leather and the difference between fish and cowhide, as well as how fish leather is produced and where.  The class will cover stitching techniques plus wallet design including measurement and cutting methods.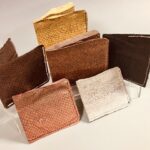 Students to bring:
Sharp scissors (Fiskars or equivalent)

Metal foot long ruler

Marking pen
General Age Policy:
All classes are for adults (18+) unless otherwise noted.
Class Minimums:
Be aware we may cancel 5 days before class date if a minimum number of registrations not reached. We work to balance teachers' need to plan for a class with students' busy schedules -- not an easy task. Please register as early as possible!