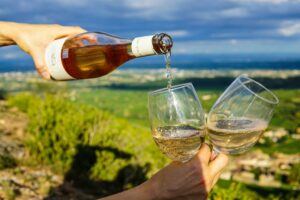 Pack your virtual bags and travel to France with sommelier Lisa Priest!
Sip along as we taste and learn our way through the world's most important wine-producing country. With its rich history, we will begin by covering the top eight regions of France and explore what makes them so unique.
We will also learn about France's most well-known varietals, why French wines fetch such high prices, then discover the lesser-known (but trending) wine regions and uncover hidden gems that are excellent values. Finally, we will touch on the complicated structure of French wine classifications and get equipped with the knowledge to select French wines that suit your individual palette.
This class is suitable for both novice wine drinkers and wine aficionados alike! 
Note: while it is up to each participant to source their own wines for this class, a list of recommended wines available locally will be emailed out two weeks prior to the class.
Online Class General Information:
Each registration is for one "device" (one computer, tablet, phone).  This is to ensure we don't have more people registered than the instructor is comfortable with having in a class.  Please be respectful of this guideline and purchase multiple class spots if more than one person from your household is interested in attending.

You will need a reliable Internet connection as well as a computer or device with which to access the online class.  Please arrive 10 minutes before class begins, to ensure your connection and device are ready when the class begins.  

If the class lists 'Materials Needed', you will want to purchase those materials and have them available as well

Each class will be held using Zoom technology.  You will receive a link and a password and information on how to log on,  prior to the class.  You will be able to view and ask questions during the class.
General Age Policy:
All classes are for adults (18+) unless otherwise noted.
Class Minimums:
Be aware we may cancel 5 days before class date if a minimum number of registrations not reached. We work to balance teachers' need to plan for a class with students' busy schedules -- not an easy task. Please register as early as possible!