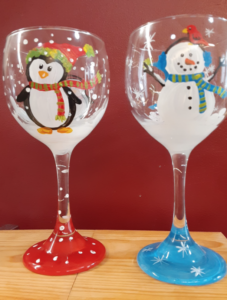 Warm up your cold winter days with these cute and fun wine glasses.
Make this for yourself or your favorite sweetie!  Even better, sign up with some friends and share giggles and painting fun with your gang.  Have you taken a class with Pam before?  If not, you're in for a treat, she is an engaging, charming and experienced crafter who loves sharing her time with others.  In a word — she is a hoot and you're in for a real treat.
With the class you receive a kit of 2 glasses, paint, brushes, templates, and instructions on how to temper the paint after your glasses are complete.
You can choose to do one design on both glasses or choose two different designs. Step by step instructions and templates make this an easy and successful project.
Plus — keep watching our website for a night of desserts and dessert wines through Chef Maggie and our wine expert, Lisa Priest on February 11.  The perfect way to use your newly designed wine glasses.
Consider enjoying these two classes as a Valentine treat, new hand painted glasses, plus the perfect wine and yummy desserts!
***Sign up before January 27th to give enough time to have your kit mailed to your home.  Thanks.
Materials students will need to have in-hand to fully participate: 
Kit to be mailed to each registrant
Clean surface for painting
Cup of water to rinse out paintbrush
Old rag for cleaning up.
Online Class General Information:
Each registration is for one "device" (one computer, tablet, phone).  This is to ensure we don't have more people registered than the instructor is comfortable with having in a class.  Please be respectful of this guideline and purchase multiple class spots if more than one person from your household is interested in attending.

You will need a reliable Internet connection as well as a computer or device with which to access the online class.  Please arrive 10 minutes before class begins, to ensure your connection and device are ready when the class begins.  

The class fee includes a kit, which will be mailed to you.  Be sure to sign up by January 20, to receive the kit.  And if you want the kit to be mailed to an address other than your billing address, be sure to include that information in 'Order Notes' when you register.
Each class will be held using Zoom technology.  You will receive a link and a password and information on how to log on,  prior to the class.  You will be able to view and ask questions during the class.
General Age Policy:
All classes are for adults (18+) unless otherwise noted.
Class Minimums:
Be aware we may cancel 5 days before class date if a minimum number of registrations not reached. We work to balance teachers' need to plan for a class with students' busy schedules -- not an easy task. Please register as early as possible!