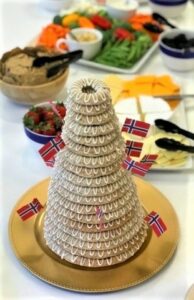 Have you always wanted to bake a Kransekake but been too intimidated by the 18 rings, specialty ring pans and icing decorations to try?
Come learn about the Queen of Scandinavian Cakes – Kransekake/Kransekage/Kransekaka No/Da/Sw!
In this class you will learn about the history of the cake and many tips and tricks that will help you learn how to master this beautiful creation. (Spoiler alert – It will still take practice.)
This class is a demonstration class with plenty of time for questions and answers.  Participants will not make anything during the class, but rather Catherine will provide information about how to proceed, tips and mistakes to avoid.  You will see examples of how the dough should look and feel at different stages. You will also receive a time-tested recipe for the cake and icing.
Class Specific Requirements:
Paper and pencil for note taking.
Online Class General Information:
Each registration is for one "device" (one computer, tablet, phone). This is to ensure we don't have more students registered than the instructor is comfortable with having in a class.  Please be respectful of this guideline and purchase multiple class spots if more than one person from your household is interested in attending.
You will need a reliable Internet connection as well as a computer or device with which to access the online class. Please arrive 10 minutes before class begins, to ensure your connection and device are ready when the class begins.
If the class lists 'Materials Needed', you will want to purchase those materials and have them available as well
Each class will be held using Zoom technology. You will receive a link and a password and information on how to log on,  prior to the class.  You will be able to view and ask questions during the class.
General Age Policy:
All classes are for adults (18+) unless otherwise noted.
Class Minimums:
Be aware we may cancel 5 days before class date if a minimum number of registrations not reached. We work to balance teachers' need to plan for a class with students' busy schedules -- not an easy task. Please register as early as possible!