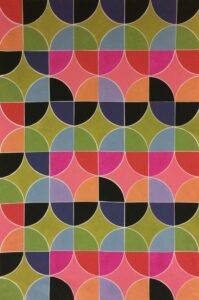 Interested in Scandinavian design? How about learning the art of fabric stenciling with textile artist Kirsten Aune? Taking inspiration from Kirsten's colorful, bold patterns and modern Scandinavian design, students will create their own designs for use on a simple project such as a pillow or small purse.  
From cutting stencils to finishing projects with hand printed patterns, this class will provide an overview of fabric stenciling techniques that can be applied to home and apparel projects.
Class Specific Materials list: (Students provide their own tools and materials).
Masking tape
T- pins if you have them
Padding for table/towel/blanket with sheet or fabric over it 
Sponge brushes (try to get ones with a little stiffness if you can)
Freezer wrap
Good scissors
Pre-washed cotton muslin fabric
Pen
Paper for ideas and notes
Ruler (optional) 
Stickers, hole punches, fun paper punches people use for scrapbooking (optional)
Iron
Fabric paint, you can get fabric paint at any local craft shop, Michael's, or Joann Fabrics. I order mine from Pro-Chemical and Dye. You can get 4oz or 8oz pre-mixed colors. I like opaque colors. The opaque colors can be thick so I would also purchase thinner. I buy the opaque and translucent base in addition to primary color pigments including black and white mixing my own colors.
Mixing spatulas or spoons
Empty containers if mixing your own paint
Apron that can get paint on it
Online Class General Information: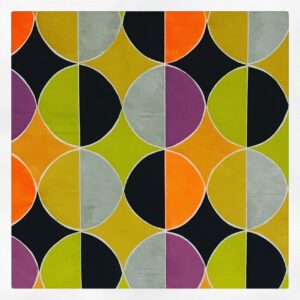 Each registration is for one "device" (one computer, tablet, phone). This is to ensure we don't have more students registered than the instructor is comfortable with having in a class.  Please be respectful of this guideline and purchase multiple class spots if more than one person from your household is interested in attending.
You will need a reliable Internet connection as well as a computer or device with which to access the online class. Please arrive 10 minutes before class begins, to ensure your connection and device are ready when the class begins.
If the class lists 'Materials Needed', you will want to purchase those materials and have them available as well
Each class will be held using Zoom technology. You will receive a link and a password and information on how to log on,  prior to the class.  You will be able to view and ask questions during the class.
General Age Policy:
All classes are for adults (18+) unless otherwise noted.
Class Minimums:
Be aware we may cancel 5 days before class date if a minimum number of registrations not reached. We work to balance teachers' need to plan for a class with students' busy schedules -- not an easy task. Please register as early as possible!