Online: Chip Carving for Beginners
Details
Date & Time: December 2, 2020 @ 7:00 pm - 8:30 pm
|
Recurring Event
(See all)
One event on December 9, 2020 at 7:00 pm
One event on December 16, 2020 at 7:00 pm
Class Fee: $95.00
Class fee includes cost of material for this class, if provided.
Skill Level: Beginner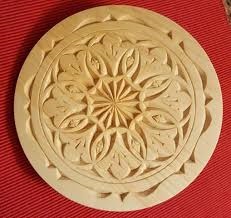 Enjoy learning this traditional skill with gifted carving teacher Bart Dunning for the very economical price of $30!  There is an additional fee of $65 for the knife (which can be used again and again) and wood material.
Chip carving is a very old craft practiced in many cultures.  This is an art-form that almost anyone can practice. The finished pieces often look very complicated and beautiful.  The patterns we typically see are based on Northern European traditions.  Chip carving just requires patience and a strong, steady hand.  It consists of a set of triangular or curved cuts laid out in regular, geometric patterns, but can also be more free form, as in lettering or images.
An exceptionally sharp knife is key to safety and ease of carving.  You will learn about the care of the knife.  You will also learn how to draw a pattern for cutting, how to make the various cuts and develop a "feel" for the wood.  You will also learn how to deal with mistakes, short of adding fuel to your wood stove or fireplace.  You will leave with some new skills, some new friends and, hopefully, a beautifully carved coaster
Classes held on Zoom will be shorter than in person classes therefore this class will take place over 3 Wednesdays.  All three sessions will be $30 total.  An additional $65 will be the cost for the kit that will be sent to you by the instructor a few days before the December 2nd class.  If you are unable to attend all three it is advised to go ahead and sign up and Bart will try to cover briefly what you have missed.
**Session One:  December 2 at 7-8:30
Overview, knife care, wood, drawing patterns, prep for the next week.
**Session Two: December 9 at 7-8:30
Holding the knife, cutting triangles, diamonds, swoops, lines, geometric patterns and circles.  Prep for the next week.
**Session Three: December 16 at 7-9:00
Cutting final project, sequence of cuts, avoiding splits, finishing the wood.
Materials students will need to have in-hand to fully participate:
Online Class General Information:
Each class will be held using Zoom technology.  You will receive a link and a password and information on how to log on,  prior to the class.  You will be able to view and ask questions during the class.

Each registration is for one "device" (one computer, tablet, phone).  This is to ensure we don't have more people registered than the instructor is comfortable with having in a class.  Please be respectful of this guideline and purchase multiple class spots if more than one person from your household is interested in attending.

You will need a reliable Internet connection as well as a computer or device with which to access the online class.  Please arrive 10 minutes before class begins, to ensure your connection and device are ready when the class begins.  
General Age Policy:
All classes are for adults (18+) unless otherwise noted.
Class Minimums:
Be aware we may cancel 5 days before class date if a minimum number of registrations not reached. We work to balance teachers' need to plan for a class with students' busy schedules -- not an easy task. Please register as early as possible!