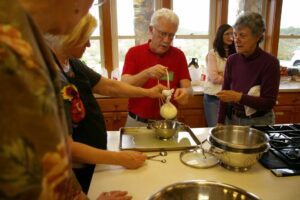 Have you ever wanted to make cheese from scratch but didn't think you could do it? Or possibly tried but your experiment failed?  Well then, check this class out.  You will learn to make a moist cheese that has a spreadable consistency and a mild lemon flavor and keeps up to a week in the refrigerator.
Lemon Cheese takes about 2 to 2 ½ hours to make. The equipment and materials needed to make this cheese will be discussed and the recipe will be explained at each step.
There will be a PowerPoint discussing cheese making in general.
Students will be able to ask questions during class and can also email questions later as they practice their cheese making skills. 
Best part:  The Lemon Cheese is ready to eat at the end of the class, but a little hint: it will have more flavor in a day or two.
Materials students will need to have in-hand to fully participate:
1 or 2 gallon stainless steel or enamel pot (no Aluminum)

Colander

Cheese cloth (washed muslin)

2 foot string or shoe string (washed)

Thermometer

Stove top or hot plate

1 gallon 2% or whole milk (store bought ok)

2-5 lemons or ½ to 1 cup of lemon juice

1-2 teaspoons of pickling salt or any coarse salt
Online Class General Information:
Each registration is for one "device" (one computer, tablet, phone).  This is to ensure we don't have more people registered than the instructor is comfortable with having in a class.  Please be respectful of this guideline and purchase multiple class spots if more than one person from your household is interested in attending.

You will need a reliable Internet connection as well as a computer or device with which to access the online class.  Please arrive 10 minutes before class begins, to ensure your connection and device are ready when the class begins.  

If the class lists 'Materials Needed', you will want to purchase those materials and have them available as well

Each class will be held using Zoom technology.  You will receive a link and a password and information on how to log on,  prior to the class.  You will be able to view and ask questions during the class.
General Age Policy:
All classes are for adults (18+) unless otherwise noted.
Class Minimums:
Be aware we may cancel 5 days before class date if a minimum number of registrations not reached. We work to balance teachers' need to plan for a class with students' busy schedules -- not an easy task. Please register as early as possible!