Here is another opportunity to slow down, get creative, have some fun and learn the benefits of bread baking all while being online.
This online class will build upon a previous class in September, and focus on Dough Development/Shaping/Baking . Our instructor, Bryce Johnson, bakes and sells his breads through farmers markets in the area (just not this Covid year) and is one of our favorite local bakers.  You can take either class separately but consider taking both classes to receive instruction on the full bread baking process.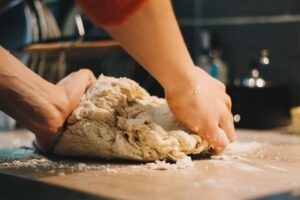 This online class will be hands-on, with teaching times interspersed during the periods when the dough rests and rises.  Each student will be emailed a recipe and asked to premix the dough before the class. Everyone will have baked two loaves of bread at home and will come away from each experience a more confident and accomplished baker!
Bryce is teaching two baking classes, one in September and one in October.  Though it would be beneficial to attend both classes, each will stand alone.
September 27    1:00 –  3:00 pm    Pre-ferments/Mixing/Kneading
October 10         9:30 – 11:30 am     Dough Developement/Shaping/Baking
Each participant will need to have the following on hand:
Bread flour

Whole Wheat flour

Yeast

Salt

Cup measures and/or scale

Mixing bowls

Dough scraper or spatula

Chef's knife or bench knife

Serrated knife

Bread pan (about 9" X 5")

Oil spray or light oil

8-9" wicker basket or bowl

Baking sheet

Parchment paper

Dish towel (cotton or linen; not terry cloth)
Online Class General Information:
Each registration is for one "device" (one computer, tablet, phone). This is to ensure we don't have more students registered than the instructor is comfortable with having in a class.  Please be respectful of this guideline and purchase multiple class spots if more than one person from your household is interested in attending.
You will need a reliable Internet connection as well as a computer or device with which to access the online class. Please arrive 10 minutes before class begins, to ensure your connection and device are ready when the class begins.
If the class lists 'Materials Needed', you will want to purchase those materials and have them available as well
Each class will be held using Zoom technology. You will receive a link and a password and information on how to log on,  prior to the class.  You will be able to view and ask questions during the class.
General Age Policy:
All classes are for adults (18+) unless otherwise noted.
Class Minimums:
Be aware we may cancel 5 days before class date if a minimum number of registrations not reached. We work to balance teachers' need to plan for a class with students' busy schedules -- not an easy task. Please register as early as possible!