Barn signs or 'hex signs' are mostly known today for their decorative purposes, but some believe they were painted by Pennsylvania Dutch farmers to ward off evil spirits or storms, or to bestow blessings and protections on the farm family. 
Using bright colors and often incorporating a star pattern, these beautiful designs were originally found primarily in southern Pennsylvania, a region settled by farmers from the Rhineland area of Germany.  
The holiday season is almost upon us! Create a unique handmade gift for friend or family, or a beautiful decoration for your own barn or home. 
In this demonstration class participants will learn about techniques, materials, tips, examples, and will receive encouragement to produce your own sign outside of the class.  Larry is a fun instructor with helpful and entertaining stories, you'll have a delightful time plus learn how to produce a beautiful piece of art for yourself or for a gift.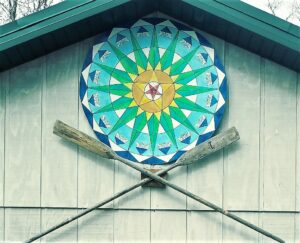 Specific Class Requirements:
This class is a demonstration class, but if you are interested to work on a sign as you listen to Larry describe his process, here's a list of supplies you should have on-hand prior to the start of class.   Remember, there is no need to have these supplies for the class, you can just listen and watch, but Larry also welcomes participation for those who are interested:
#2 Pencil 

Pencil sharpener 

Assortment of any good quality (I will be using a $10.99  set of 24 Gouache from Michaels), paints. 

Spray Varnish 

#3 paint brush 

#8 paint brush 

Compass 

Protractor 

Ruler 

Water cup 

Paper plate for paint pallet 

White,

heavy

paper at least 11" X 11", or Foam Board  11" X 14" cut to square (I will be using Bristol board)*

* We will work together on smaller indoor signs.  

Normally these are large outdoor signs done in  acrylic or oils on primed hardboard. 2' X 2' , 4' X  4' or larger.
Online Class General Information:
Each registration is for one "device" (one computer, tablet, phone). This is to ensure we don't have more students registered than the instructor is comfortable with having in a class.  Please be respectful of this guideline and purchase multiple class spots if more than one person from your household is interested in attending.
You will need a reliable Internet connection as well as a computer or device with which to access the online class. Please arrive 10 minutes before class begins, to ensure your connection and device are ready when the class begins.
If the class lists 'Materials Needed', you will want to purchase those materials and have them available as well
Each class will be held using Zoom technology. You will receive a link and a password and information on how to log on,  prior to the class.  You will be able to view and ask questions during the class.
General Age Policy:
All classes are for adults (18+) unless otherwise noted.
Class Minimums:
Be aware we may cancel 5 days before class date if a minimum number of registrations not reached. We work to balance teachers' need to plan for a class with students' busy schedules -- not an easy task. Please register as early as possible!