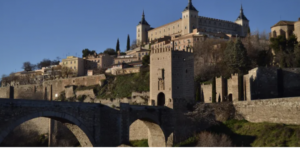 This is a 3 session event, led by Chris Coleman.  See below for more details.
Join Marine Mills Folk School on another virtual tour with our partner Chris Coleman and Chocolate Suitcase, this time in and around Madrid!
Chris Coleman, local yoga teacher and long time travel guide in Rick Steves' Travel, is offering Marine Mills Folk School students a way to support our folk school plus connect with others interested in travel and staying fit.  With each registration for this fun online series, Chris will donate to Marine Mills Folk School – thank you Chris!  You're also welcome to register for the same price using Chris's web site, but MMFS won't receive a donation.
Chris is teaming up with local tour guide Amanda Buttinger, another Rick Steves' guide who has lived in Spain for 23 years.  She and Chris will be sharing the magical city of Madrid, its surroundings and nearby Castilla la Mancha with class participants.
Each Saturday's online session (three total) will explore the history, culture, food and wine as we learn about the connections of the area to the classic hero Don Quijote de la Mancha.  Castles, museums, quaint city streets – we'll all be there, from the comfort of our own homes.  Got the travel bug – feed it with this virtual tour!
How it works: We'll each individually set a challenge goal to walk (or bike)  that works for you over 2 weeks/3 weekends.  Whatever your fitness goal is, we think you'll find the support of the class will help you meet your own personal challenge.  Or you can attend for the cultural and historical aspects and skip the exercise challenge! Everyone will get support and motivation during our 3 online Saturday sessions (June 5, 12 and 19), plus there will be additional videos each week that further explore Spain with our local guide Amanda.
After registering for the class you'll receive a welcome email from our coaching app that will instruct you to download the app "My Coach". You will receive a daily email during the session with lessons and information. The app will direct you to written and video content to help guide you on our virtual pilgrimage path.
Live Stream Events every Saturday (June 5, 12 and 19) on location:  Amanda, our local guide will broadcast live from Spain with details about where we are on our route. Normally 10 am-11 am cst on Saturdays, these live events will be recorded and will be accessible for viewing at your leisure. All content will be available to you through our My Coach app, private Facebook group and YouTube group.
Note: No Marine Mills Folk School coupons can be used for this class.
Student Supply List:
A good pair of walking shoes/hiking boots
A Fitbit or alternate method of keeping track of distance (we'll provide you a conversion table for all other daily activities to help you add up the mileage)
A sense of curiosity & adventure!
Online Class General Information:
Each registration is for one "device" (one computer, tablet, phone).  This is to ensure we don't have more people registered than the instructor is comfortable with having in a class.  Please be respectful of this guideline and purchase multiple class spots if more than one person from your household is interested in attending.

You will need a reliable Internet connection as well as a computer or device with which to access the online class.  Please arrive 10 minutes before class begins, to ensure your connection and device are ready when the class begins.  

Each class will be held using Zoom technology.  You will receive a link and a password and information on how to log on,  prior to the class.  You will be able to view and ask questions during the class.
General Age Policy:
All classes are for adults (18+) unless otherwise noted.
Class Minimums:
Be aware we may cancel 5 days before class date if a minimum number of registrations not reached. We work to balance teachers' need to plan for a class with students' busy schedules -- not an easy task. Please register as early as possible!