Online: Make your own Ukrainian Easter Eggs
Details
Date & Time: February 13, 2021 @ 9:00 am - 12:00 pm
|
Recurring Event
(See all)
An event every day that begins at 9:00 am, repeating until February 14, 2021
Class Fee: $47.00
Class fee includes cost of material for this class, if provided.
Skill Level: Beginner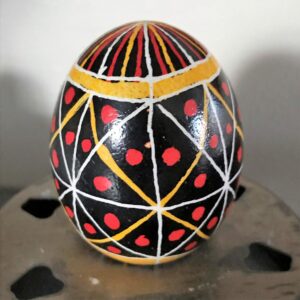 This class is a two session class, on both Saturday and Sunday, February 13 and 14, 2021, at 9 am until noon both days.  
Another sign that spring is coming!  To prepare for the upcoming Easter season, learn the art of making pysanky – Ukrainian Easter Eggs.  Using beeswax and dyes applied in layers, students will create amazing, beautiful eggs that will please the Easter Bunny or anyone lucky enough to receive the egg as a gift.  We're certain you've admired these intricate eggs in the past, this class will help you make them yourself!
The term 'pysanky' is of Eastern European-Slavic heritage, from the words 'pysaty' – to write and 'kraska' – color.  Pysanky suggests 'things written upon with color', which will become clear as students learn the dyeing technique.  
Our instructor Laurelei will share some of the history and traditions of Ukrainian Easter and egg decorating as she guides students through the process of waxing and creating Ukrainian eggs.  If you've considered making these eggs on your own, you know videos and instruction manuals are intimidating and you probably stopped before you began!  Laurelei is the perfect teacher to ease you into this traditional skill that you are going to love.  This class is appropriate for students aged 12 and above.  
Materials students will need to have on hand to fully participate: 
First, students are asked to order Kit #2 for $10.98  https://www.ukrainiangiftshop.com/ This kit includes six dyes, beeswax, a kistka, two design sheets and instructions.
Additional supplies each student will need to have on hand to participate:
White vinegar
Glass jars or covered containers for dyes (frosting tubs work)
Newspaper to cover work area
3-6" taper candle in a candle holder
White napkins or paper towels
Eggs at room temperature
Online Class General Information:
Be sure to order the kit in plenty of time so that you receive it before February 13

Each registration is for one "device" (one computer, tablet, phone).  This is to ensure we don't have more people registered than the instructor is comfortable with having in a class.  Please be respectful of this guideline and purchase multiple class spots if more than one person from your household is interested in attending

You will need a reliable Internet connection as well as a computer or device with which to access the online class.  Please arrive 10 minutes before class begins, to ensure your connection and device are ready when the class begins 

Each class will be held using Zoom technology.  You will receive a link and a password and information on how to log on,  prior to the class.  You will be able to view and ask questions during the class
General Age Policy:
All classes are for adults (18+) unless otherwise noted.
Class Minimums:
Be aware we may cancel 5 days before class date if a minimum number of registrations not reached. We work to balance teachers' need to plan for a class with students' busy schedules -- not an easy task. Please register as early as possible!