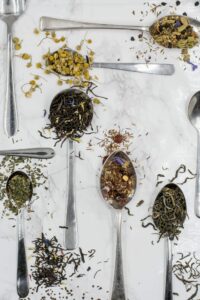 Tea is the most consumed beverage in the world (after water)!  And with 3000 types of tea, all coming from just one plant, there's a lot to consider when selecting a tea.  
Marine Mills Folk School is pleased to welcome Bill Waddington, founder of TeaSource, to help us dive into the subject.  Bill has been sipping and teaching about tea throughout the world for many years and he's agreed to share his knowledge and passion during this informative and fun online class.  He doesn't guarantee you'll learn EVERYTHING there is to know about tea, but we're certain you'll learn plenty and in the process become an aficionado of all things tea.
Each attendee will receive a kit of tea samples before the class. 
During the class, participants will follow along with Bill as they prepare, taste and learn about 6 samples of tea, one from each of the 6 categories of tea (Camellia sinensis). 
Bill will talk about tea culture, tea history and traditions, he'll have tips for brewing and tasting, plus there will be plenty of time for questions.   You'll also receive a handout on the basics of tea along with some really cool tea pictures.
*Note: Students will receive kits with the necessary materials in advance.  The cost of this class includes the kit plus shipping cost.
In order for the tea to be delivered in time for the class, please register by April 1, 2021.  As you know, deliveries can be a bit wonky so register early!
Students will need the following, in order to fully participate in the class:
Kit, mailed prior to class

A source of boiling water

Cups for tea drinking
Online Class General Information:
Each registration is for one "device" (one computer, tablet, phone).  This is to ensure we don't have more people registered than the instructor is comfortable with having in a class.  Please be respectful of this guideline and purchase multiple class spots if more than one person from your household is interested in attending.

You will need a reliable Internet connection as well as a computer or device with which to access the online class.  Please arrive 10 minutes before class begins, to ensure your connection and device are ready when the class begins.  

Each class will be held using Zoom technology.  You will receive a link and a password and information on how to log on,  prior to the class.  You will be able to view and ask questions during the class.
General Age Policy:
All classes are for adults (18+) unless otherwise noted.
Class Minimums:
Be aware we may cancel 5 days before class date if a minimum number of registrations not reached. We work to balance teachers' need to plan for a class with students' busy schedules -- not an easy task. Please register as early as possible!