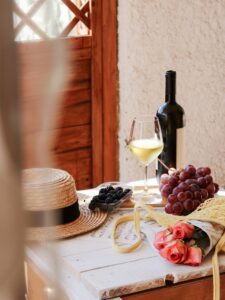 Our Valentine Gift to you!  PRICE DROP HAPPENING NOW!  From $67.00 to $49.00!  A GREAT deal!
Join Chef Maggie of Alternative Dish and sommelier Lisa Priest of Spillery Creative in this delightfully decadent class.
Fully immerse your taste buds while learning all about dessert wines and how to prepare three delicious desserts.
This hybrid demonstration/wine tasting class will have you ready to try out Maggie's desserts on your own and wow your friends with your newfound wine skills. Chef Maggie will lead you through a guided demonstration while you sip on Sommelier Lisa Priest's hand-picked dessert wines.  Take advantage of the food and wine knowledge and skills of our featured instructors, in your own kitchen and/or on your own couch in front of your own fire!
In addition to the pairings, we will also cover the dessert wine basics, from Moscato to Madeira.
The class fee covers one device but feel free to bring your favorite sweetie!  
On the menu: Lemon Mousse, Maple-Pecan Roasted Pears and Raspberry Chocolate Truffles.  Yum!
Students will need to participate fully in this class:
Bring your favorite dessert wines or select any or all from Lisa's picks
An email list will be sent out two weeks prior to class with Maggie's dessert ingredient list,  and suggestions for the purchase of your wines
Online Class General Information:
Each registration is for one "device" (one computer, tablet, phone).  This is to ensure we don't have more people registered than the instructor is comfortable with having in a class.  However, for this class, Maggie and Lisa are encouraging participants to attend with a friend, using only 1 registration!

You will need a reliable Internet connection as well as a computer or device with which to access the online class.  Please arrive 10 minutes before class begins, to ensure your connection and device are ready when the class begins  

Each class will be held using Zoom technology.  You will receive a link and a password and information on how to log on,  prior to the class.  You will be able to view and ask questions during the class
General Age Policy:
All classes are for adults (18+) unless otherwise noted.
Class Minimums:
Be aware we may cancel 5 days before class date if a minimum number of registrations not reached. We work to balance teachers' need to plan for a class with students' busy schedules -- not an easy task. Please register as early as possible!