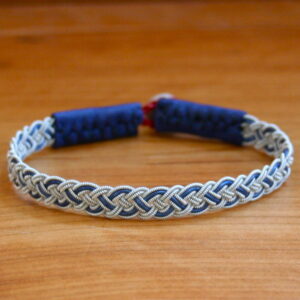 The cost of the class materials are included in the class cost.
Want to try a colorful variation of a Saami Inspired bracelet? Christmas is coming……make a beautiful, unique gift for someone special!  Or, have you started a bracelet and haven't taken the time to sew your braid to the usual strip of reindeer hide? Whether you are beginner or seasoned crafter this braid variation has all the beauty of a traditional weave but with a punch of color.
This "Scandic blue" bracelet is capped on the ends with matching reindeer leather and traditional style antler button and loop clasp. This is a great way to incorporate some color in your design and cut down on your sewing time to boot! Join veteran instructor Liz Bucheit for this easy and exciting project guaranteed to put you on every Secret Santa List this Xmas. *Note: Students will receive kits with all the necessary materials included by mail in advance.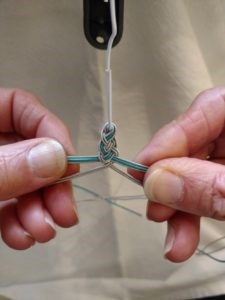 Materials students will need to have in-hand to fully participate:
Scissors
Measuring tape or ruler
Thimble (if needed for sewing)
Rubber cement or tacky glue
Toothpicks for glue application
Extra magnification (cheater glasses or other if needed for close work)
Provided by the instructor:
Your instructor will provide a kit with all the other required supplies for you.  The cost of the kit is $43.50 (Includes plastic clamp for braiding and shipping fee) and included in your  class registration fee.

In order for materials to be delivered in time for class please register by October 24, 2020. We cannot guarantee timely delivery after this date so register early and get ready for an exciting new way to learn and or refresh your skills.  If you are interested in attending and registration is closed, please contact us at info@marinemillsfolkschool.org to see if Liz has any extra kits — we'll sneak you in, if we can!!
Online Class General Information:
Each registration is for one "device" (one computer, tablet, phone).  This is to ensure we don't have more people registered than the instructor is comfortable with having in a class.  Please be respectful of this guideline and purchase multiple class spots if more than one person from your household is interested in attending.

You will need a reliable Internet connection as well as a computer or device with which to access the online class.  Please arrive 10 minutes before class begins, to ensure your connection and device are ready when the class begins.  

If the class lists 'Materials Needed', you will want to purchase those materials and have them available as well

Each class will be held using Zoom technology.  You will receive a link and a password and information on how to log on,  prior to the class.  You will be able to view and ask questions during the class.
General Age Policy:
All classes are for adults (18+) unless otherwise noted.
Class Minimums:
Be aware we may cancel 5 days before class date if a minimum number of registrations not reached. We work to balance teachers' need to plan for a class with students' busy schedules -- not an easy task. Please register as early as possible!