NOTE: This class is the second session of the  five-part series "You Are What You Eat: Storytelling through Food". Each session is listed separately on our website.  We encourage you to take just one, two…or all five.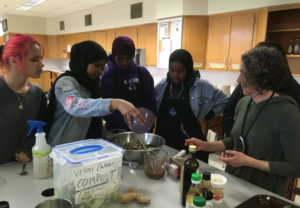 Session two:
March 9, 6:30-8 PM with Jenny Breen–Regenerative Cooking: Food as Medicine for People and the Planet.
Marine Mills Folk School is pleased to be able to offer this new  series of classes  in partnership with Farm Table Foundation. FTF is working with three instructors —experts in cooking, nutrition, health and wellness, food justice, and food systems— to explore the important topics of your health, identity and culture, plus the health of our environment.
Jenny's food story is a combination of family tradition and cultural adaptation, and a desire to share the journey toward personal, environmental, and community health. She has spent years learning about, participating in, and translating the value and meaning of our local food system, and she passionately pursues justice for everyone through regenerative eating, cooking, and farming. Jenny believes it is important to understand the science of food, and nutrition, but equally important to learn how to trust your body's knowledge, wisdom, and intuition when it comes to feeding yourself, your family, and your community. Jenny guides people through procuring, preparing, and eating food in this way. She will introduce some simple concepts for nourishment through creative plant-forward, whole foods-based recipes
Join us for one or all of the classes in this series:
February 23, 6:30-8 PM: Led by all three of our instructors: Lachelle Cunningham, Suan Kregel, and Jenny Breen.
March 9, 6:30-8 PM with Jenny Breen–Regenerative Cooking: Food as Medicine for People and the Planet.
March 23, 6:30-8 PM with Lachelle Cunningham–American Soul Food Healing.
April 6, 6:30-8 PM with Suan Kregel–Start with Stir Fry: Twenty Minutes to a Nourished Body & Community.
April 20, 6:30-8 PM: Our three instructors—Lachelle, Suan, and Jenny —will come back together to share what they've learned about each other and invite you to inquire, explore, and share how you connect to our stories. And they'll prepare a surprise dish together!
Materials students will need to have in-hand to fully participate:
Paper and pen to take notes
Questions
Online Class General Information:
Each registration is for one "device" (one computer, tablet, phone).  This is to ensure we don't have more people registered than the instructor is comfortable with having in a class.  Please be respectful of this guideline and purchase multiple class spots if more than one person from your household is interested in attending.

You will need a reliable Internet connection as well as a computer or device with which to access the online class.  Please arrive 10 minutes before class begins, to ensure your connection and device are ready when the class begins.  

Each class will be held using Zoom technology.  You will receive a link and a password and information on how to log on from Farm Table Foundation,  prior to the class.  You will be able to view and ask questions during the class.
General Age Policy:
All classes are for adults (18+) unless otherwise noted.
Class Minimums:
Be aware we may cancel 5 days before class date if a minimum number of registrations not reached. We work to balance teachers' need to plan for a class with students' busy schedules -- not an easy task. Please register as early as possible!